2011 was a great year for craft beer fans. Between the local events and the Craft Beer Community meet ups we had plenty of opportunities to drink some amazing brews with some amazing friends. I want to take this opportunity now to look back and reflect on some o the highlights of 2011! Cheers!
January got off with a bang thanks to the release of the much anticipated
Bell's Hopslam
. Each January hop heads around the US wait for Bell's to release this big hoppy monster! I am already looking forward to next months release. The month finished up with two great craft beer tasting events. First, the
2010 Winking Lizard World Tour Party
. This event gave world tour finishers a chance to attend a great craft beer tasting at the Galleria downtown. Finally, my month ended with a special
blind IPA and DIPA tasting
thanks to Bobby of BobbyLikesBeer.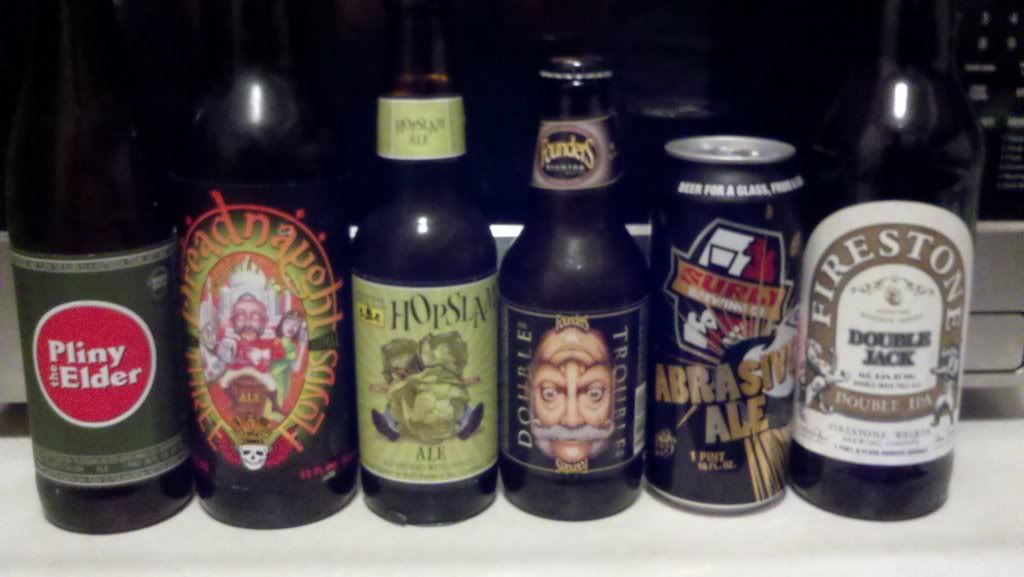 February provided a lot of cold snowy nights which make it a perfect time to get to some beer reviewing! Some highlights from this month were the
Trappistest Rochefort 6
,
Founders Black Biscuit
, and
Founders Double Trouble
. I picked these three to highlight because of how different they all are. The Rochfort 6 is a very tasty Belgian. At this point in my beer reviewing I wasn't too keen on this style of beer, and I point to this brew as the point in which my palate really started to change to like this style of beer. The Founders Black Biscuit is a legendary beer that is big, bold, and barrel aged.j Finally the Founders Double Trouble is a similar style brew to Hop Slam and sure to please most hop lovers.
March started out with a hoppy bang for me. A friend had just gotten back from a trip to Chicago and picked up a super fresh bottle of
Three Floyds Dreadnaught
for me. Ever since the January tasting, I was dying to get my hands on a bottle for a review. Thanks to the kindness of my friend Mike, I was able to do just that! The good news now is that Three Floyds has now entered back into the Ohio market and you can get your hands on this bottle without having to travel across state lines. The next highlight also stems from that same January tasting,
Ballast Point Sculpin
. This beer was a highlight of that event, but I wanted to try it on a fresh palate for a review. Luckily, while back in PA visiting family, I managed to land a bottle for review and it did not disappoint! March then continued on with Founders releasing their highly sought after
KBS
. This year I managed to land a 4-pack which I split with a friend. KBS both in a bottle and on draft is something every craft beer lover tries to experience on a yearly basis. The month rounded out with a very fun
Craft Beer Community Event at Ballantine
in Downtown Willoughby!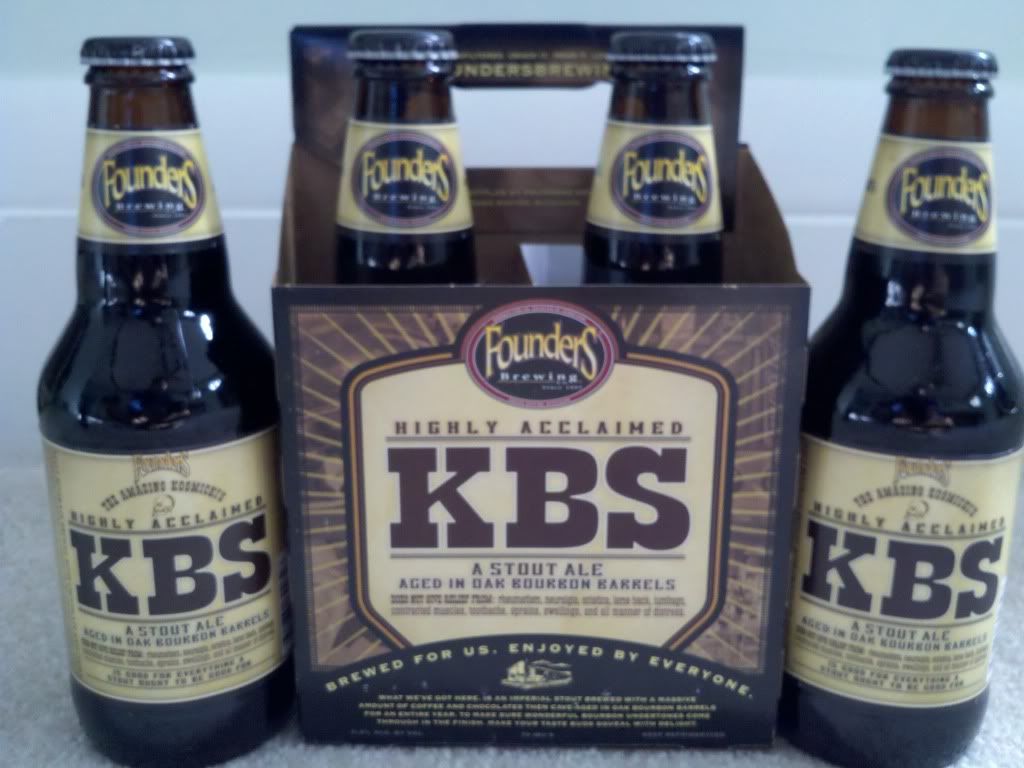 April
April started out a little like March. Some friends went to Chicago and graciously brought me back some
Half Acre Daisy Cutter
. This pale ale is one of the most tasty/sessionable pale ales you'll ever try. The next highlight was the
Three Floyds Arctic Panzer Wolf
I had the pleasure of reviewing. This bold hoppy beer was a pleasant surprise after reviewing the Dreadnaught the month before. The month rounded out with another stellar beer that my friend Mike brought back from Chicago for me,
Clown Shoes Hoppy Feet
. This was a very tasty Black IPA, and I hope one day to see Clown Shoes distribute to Ohio!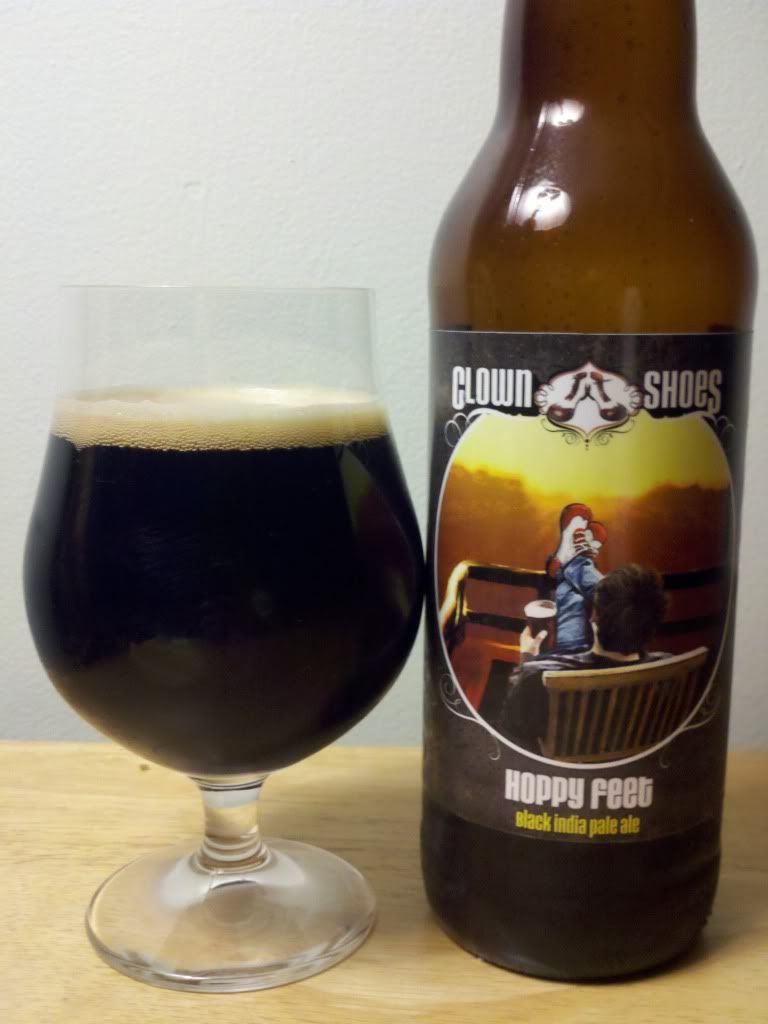 The month of May gave us a chance to try something new from Willoughby Brewing Company called
Peanut Butter Coffee Porter
. If you have not yet had this beer, I highly suggest you head to Willoughby very soon! Next up was the
International Beer Fest at the IX Center
. This event brought over 800 beers and 200 breweries to North East Ohio, and gave us a chance to try some really tasty beers. I'm looking forward to an even better event this coming May 11th-12th!
June
June started out with a big craft beer bang for my fiancee and I. We were lucky enough to attend
Savor in Washington DC
. This is one of the largest food and beer events you'll find anywhere. It was a great chance to see how they would pair food and craft beer, along with being a great opportunity to try beers that we cannot find here in Ohio! Next up was the Fat Head's Brewery
Brewer's Brawl
. This event had area brewers, along with some out of state brewers compete for the "Golden Gloves". I really enjoy these smaller scaled beer events because it really gives you a chance to converse with he brewers more about their beers. The next highlight of the month was the tapping of
Pizza Port Tarantula 2.0 Black IPA
at Lizardville. I had this beer at the IX Beer fest and ran to Lizardville when I heard they had a small keg of this brew. This is one of the smoothest and tastiest Black IPAs I have ever tried and I hope that we will see another keg in the area sometime soon! Finally, June gave me the chance to review one of my favorite beers,
Willoughby Brewing Hopnotic
. I personally cannot wait for them to brew this hoppy imperial red rye IPA again!
When July rolls around one of my favorite local brews is released,
Great Lakes Lake Erie Monster
. To me, this is a great hot summer day DIPA. Just watch out though because this monster can sneak up on you at 9%! As the month went on I managed to snag a couple pints of
Pizza Port Swamis IPA
at Lizardville. This was a left over keg from the IX beer fest, and was a great summer treat! July ended with two very fun events. First, the annual
Great Lakes Burning River Fest
. Although the temperature was scorching hot, we had a good time enjoying some cold brews right by the lake. Lastly, the Cleveland Craft Beer Community group met at
Thirsty Dog Brewing
for some beers and a tour! Each and every month I look forward to these meet-ups because they are so much fun!
August
When you think of August and Craft Beer you should think
Blues and Brews in Akron
. This event was a real treat because of the great beer selection and the fact that 20+ craft beer friends all showed up for the event. There were also a few beer highlights for the month, the first being
Cellar Rats Black Rat Imperial Stout
, which you can now find locally in bottles! I love how smoothly this beer drinks along with its rich and bold complex flavors! Finally, I had the chance to have
Bells Oracle Double IPA
on draft. This is one potently hoppy double IPA and I hope to have it again fresh from the source come a spring time trip! I also have to mention that my fiancee and I took a trip to Chicago for 4 days. While there we explored the city, and tried some really great food and beer establishments.
Click here to read about those 4 amazing days!
.
September took a turn away from events and I had the chance to review several great beers this month. The month's highlights for me were
Founders Devil Dancer
,
Half Acre Galactic Double Daisy Cutter
,
Troegs Perpetual IPA
, and
Founders Breakfast Stout
. Each of these beers are unique in their own special way. The devil dancer is a hop monster that every hop head must try, although not in my top list of beers ever, it is something that I have to have when I see it available. The double daisy cutter and the perpetual IPAs are much more balanced and smooth, but still have a very hop forward presence. Finally, the breakfast stout is something my fiancee and I look forward to each and every year. This to me is what a coffee stout is all about!
October was a very busy craft beer month for me. The month started out with a bang so big it actually got a perfect score from me. I had the chance to have
Stone 15th Anniversary Escondidian Imperial Black IPA
. By far, this has been the best Imperial Black IPA I have ever drank. The first weekend in October we traveled up to
Southern Tier Brewery for a visit
. From Cleveland the drive is only 2 hours and well worth every minute of the drive! The second weekend was the
Fat Head's IPA fest
. Every year I cannot wait to go to this event because of my love for the Hops! This event was a blast because of the great beer and great friends that all attended the event. For most, this would have been one heck of a month, but something large lurked just a few days away....CLEVELAND BEER WEEK! During this week long extravaganza of beer I managed to get out to something every night. To check out how my week went I broke it down into 2 parts. Here is
PART 1
and here is
PART 2
! Needless to say I needed a little break, so my October craft beer fun took a break for a little bit.
November
After a slight break at the end of October, we kicked off November by celebrating International Stout Day at Lizardville. The kind folks at Lizardville worked with the Cleveland Craft Beer community to put on a stout tap take over. The event was so successful that Lizardville was the number one check-in location on Untappd for
Stout Day
! Again, great beer brought some great people together for a very fun time! The month of November also included three great beers that I reviewed, two of which were locals!
Hoppin' Frogs Frog's Hollow Double Pumpkin Ale
,
Brew Kettle Winter Warmer
and
Surly Wet
. The Double Pumpkin by Hopping Frog was one of the tastiest pumpkin ales of the season. The Brew Kettles take on the Winter Warmer was an excellent mildly spiced ale. Finally, Surly Wet is one of the best fresh hopped IPAs in the country. I was lucky to have a good friend bring me back a can from Minneapolis!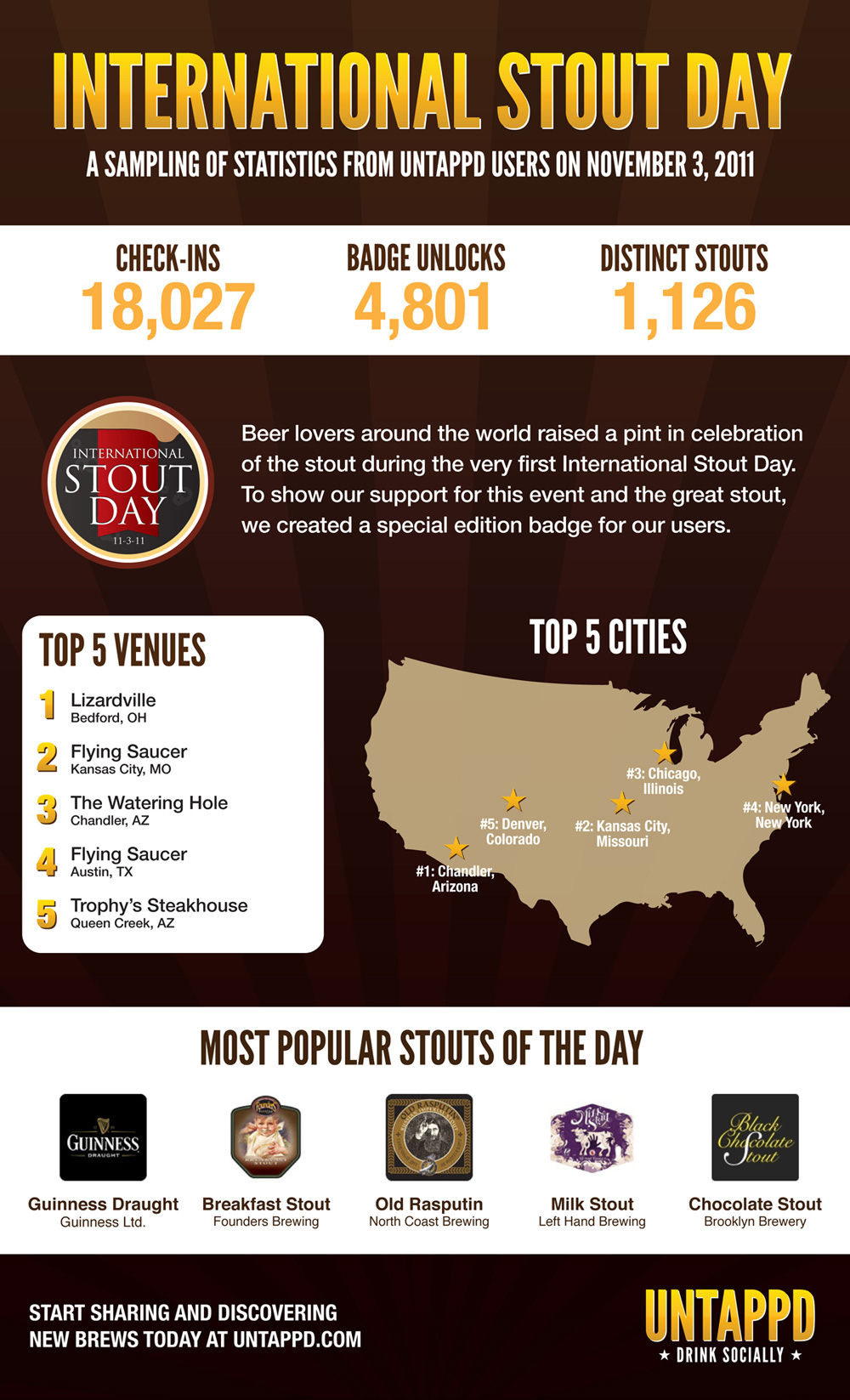 One of the highlights of the year for me was my birthday meet up at Lizardville in early December. A large group of friends showed up and pitched in to buy a 9L bottle of St. Feuillien Triple! The night was filled with good friends, fun banter and of course lots of tasty craft beer. December continued on and we attended a few holiday parties, and our final Cleveland Craft Beer Community Meet up of 2011! This final meet up was held at the Winking Lizard Independence location and a keg of Great Lakes Blackout Stout was tapped for us. This was a great way to close out our year in craft beer and I already can't wait to see what 2012 brings us!
In summary, 2011 was a year of "growing". Friendships grew, beer knowledge grew, and our community grew. I hope to see these areas continue to grow, but I'm excited to see what new chapter of craft beer will be written in 2012! Cheers!