Here is what the Brewer says
:
With over 3 pounds of Centennial hops per barrel, this double IPA has a slightly punishing yet entirely pleasing bitterness that dances on the tongue. Part of our Limited Asylum seasonal series, Satisfaction Jacksin is available on tap and in six packs at your favorite craft beer outlet from September through December-ish. 9%ABV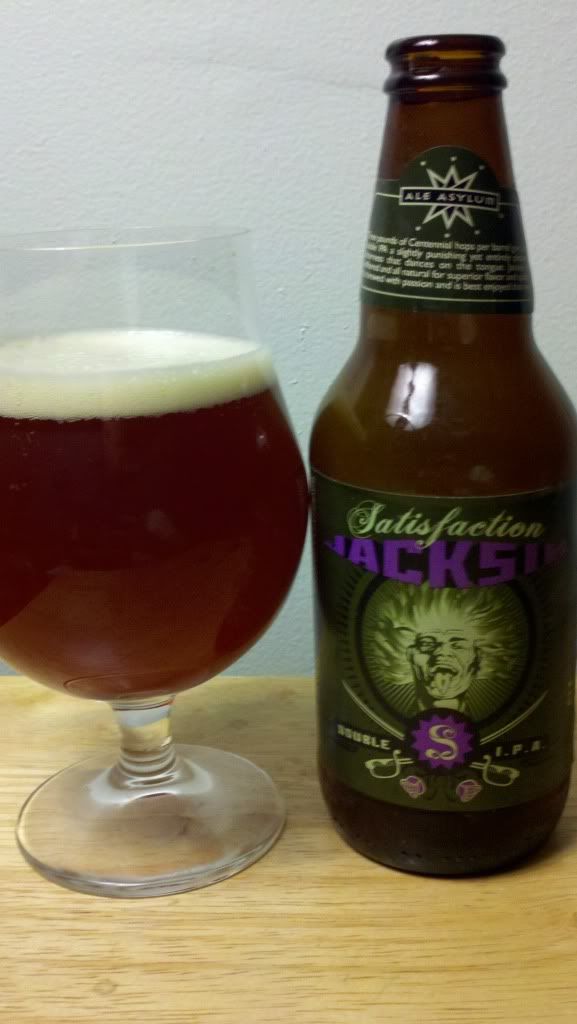 My Thoughts:
Appearance: This brew pours a very hazy rust color with a frothy off white head. For a double IPA it was on the darker side for sure. The lacing is somewhat sticky throughout.
Smell: The nose was quite potent. Strong scents of pine, citrus and grapefruit dominate the smell and leave just a little room for some caramel malt to come through. I was pretty pleased with the smell on this hoppy brew, and was looking forward to my first sip.
Taste: The malt was the first thing I noticed in the taste because I didn't expect as much of it based on the smell. The malt wasn't overpowering in any way, but it just surprised me. The malt had toasted and earth tones, with even a hint of some roasted nuts. All of this malt is needed because there sure are a lot of hops in this beer. At first pine resin and citrus zest are clearly noticeable, but then are quickly balanced with malt sweetness. By mid-drink you have yourself a very well balanced and tasty DIPA. In the end the lingering bitterness left is all grapefruit and does linger on for a while. I found this DIPA to be above average in taste, but not quite to the level of some of my favorite DIPAs.
Mouthfeel: With the abundance of malt present the body on this beer is slight above average, with average carbonation. I enjoyed the way this beer felt as I was drinking it.
Drinkability: I found this 9% abv brew pretty easy to drink. However, after drinking a single bottle my palate was slightly fatigued because of the abunance of hops and malt used in making this brew. I would recommend buying this brew because it was an enjoyable beer to drink, just know that I wouldn't drink this as a session brew.
Serving Type: 12oz bottle
My Rating: Overall 81.2/100
Look:3.9 | Smell:4.3 | Taste:4.1 | MouthFeel:4 | Drinkability:3.8