Here is what the Brewer says: An unfiltered, 100% bottle-conditioned, super-pungent imperial I.P.A. clocking in at 9% ABV and dry-hopped with Palisade, Amarillo, Simcoe, Cascade, CTZ, and Willamette hops.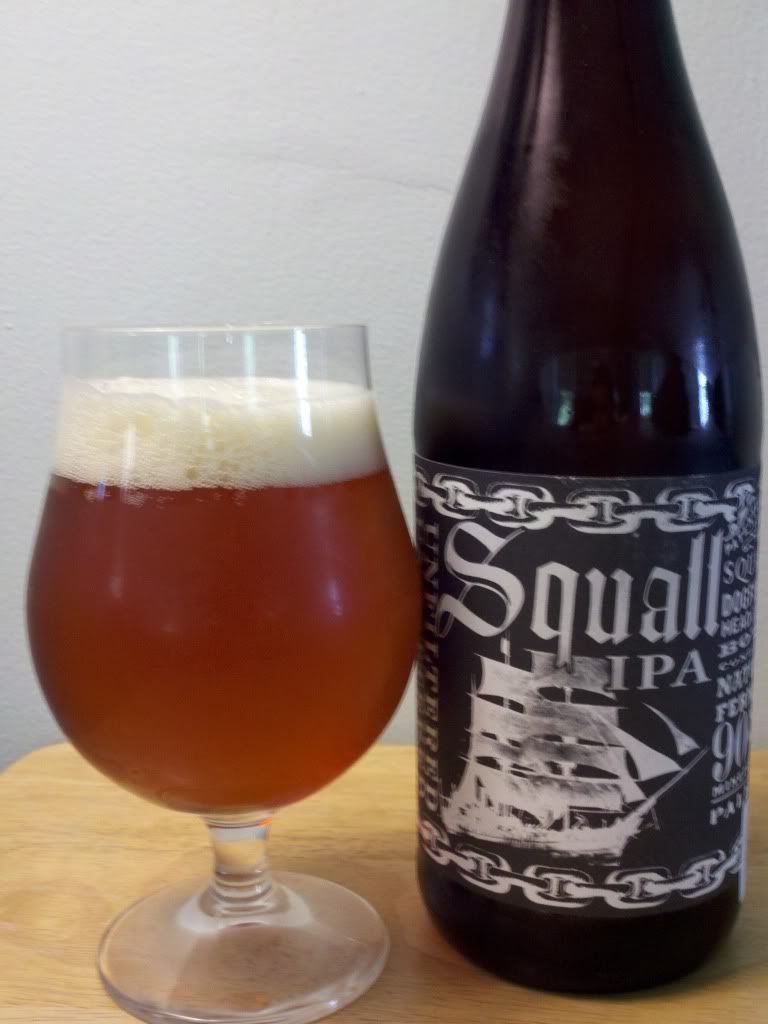 About 6-7 months ago I got my hands on two bottles of Squall IPA. I had a friend over and we decided to crack is fresh and we really enjoyed it. I didn't take any notes, and we had a few brews prior to drinking the Squall so I didn't review it at that time. I then sort of forgot I had a 2nd bottle and let it sit too long. It just didn't taste the same, hops were totally lost, so again I didn't review it. I contacted Dogfish Head on twitter to ask them what the freshest batch was and they quickly responded. A week later I stumbled upon this bottle at Lizardville and picked it up to review fresh.
My Thoughts: This beer poured a hazy orange color with an off white foamy head that quickly diminished. The smell was of citrus and grapefruit and was accompanied by a roasted barley and a strong sweet sugary scent that was very pleasing. The taste was as I remembered from the first time I had this fresh. Fresh citrus flavors are quickly joined by sugary apricot and mango fruit bitterness. To complement this bitterness there are faint hints of roasted grain, mildly sweet malt, and a little resin. The lingering bitterness is quite pleasing and invites you back for another sip. The body on this beer was medium and the carbonation was average with a pleasing bubbly mouthfeel. I find this unfiltered, bottle conditioned version of 90min IPA to be very drinkable. Its not a hop monster but it will be sure to please if you find it fresh!
Serving Type: 750ml bottle
My Rating: Overall 90.5/100
Look:4.75 | Smell:4.5 | Taste:4.5 | MouthFeel:4.5 | Drinkability:4.5