Beer Review #131
I have previously reviewed the
North Peak Diabolical IPA
and was underwhelmed by its flavor. I was then contacted by North Peak who explained they had some issues with the brewing of that batch and had corrected the issues. They offered to send me fresh Diabolical IPA so I could compare it to what I had previously drank.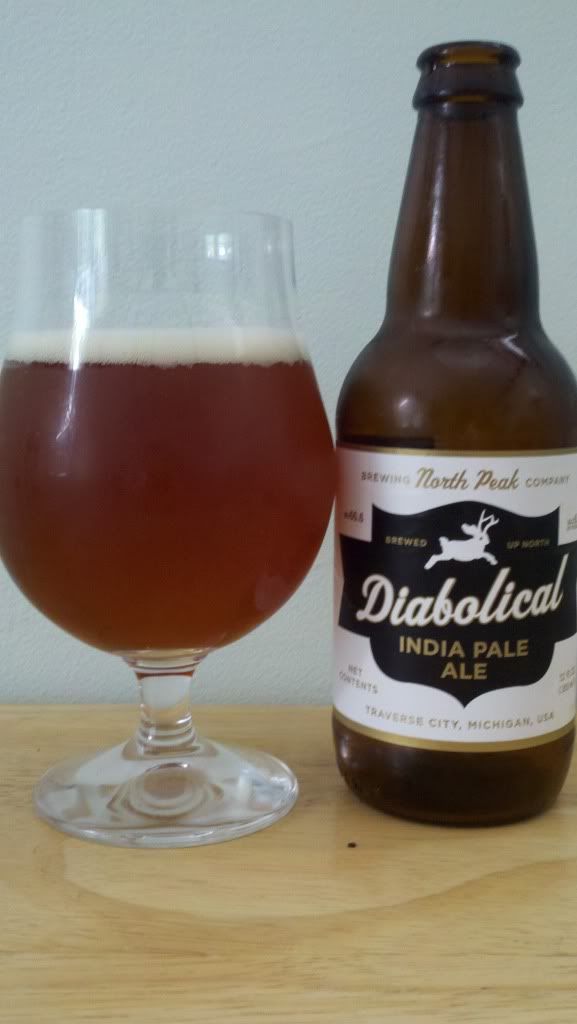 My Thoughts: This beer poured hazy orange almost a dark copper color with minimal head. The smell was much more pleasant of grapefruit and mild tropical fruits. The malty sweetness really took a back seat to the hops in the nose which was very different than the previous batch. The taste also reflected this change. A well balanced grapefruit flavor comes through first and is followed by a backbone of light caramel malt. The after taste is a pleasant dry hoppy flavor. The body was a little creamy with mild carbonation. The drinkability of this brew is much better than the previous review and I am glad to see North Peak got this beer back on track. I would now rate this beer higher:
Serving Type: 12oz Bottle
My Rating: Overall 82/100
Look: 4.25 | Smell: 4 | Taste: 4 | MouthFeel: 4.25 | Drinkability: 4.25
Bottled on 4/28/11--Drank and Reviewed on 5/17/11
I am clearly somewhat delayed in publishing this considering I wrote the review over a month ago!