Here is what the Brewer says:
What we've got here is an imperial stout brewed with a massive amount of coffee and chocolates, then cave-aged in oak bourbon barrels for an entire year to make sure wonderful bourbon undertones come through in the finish. Makes your taste buds squeal with delight.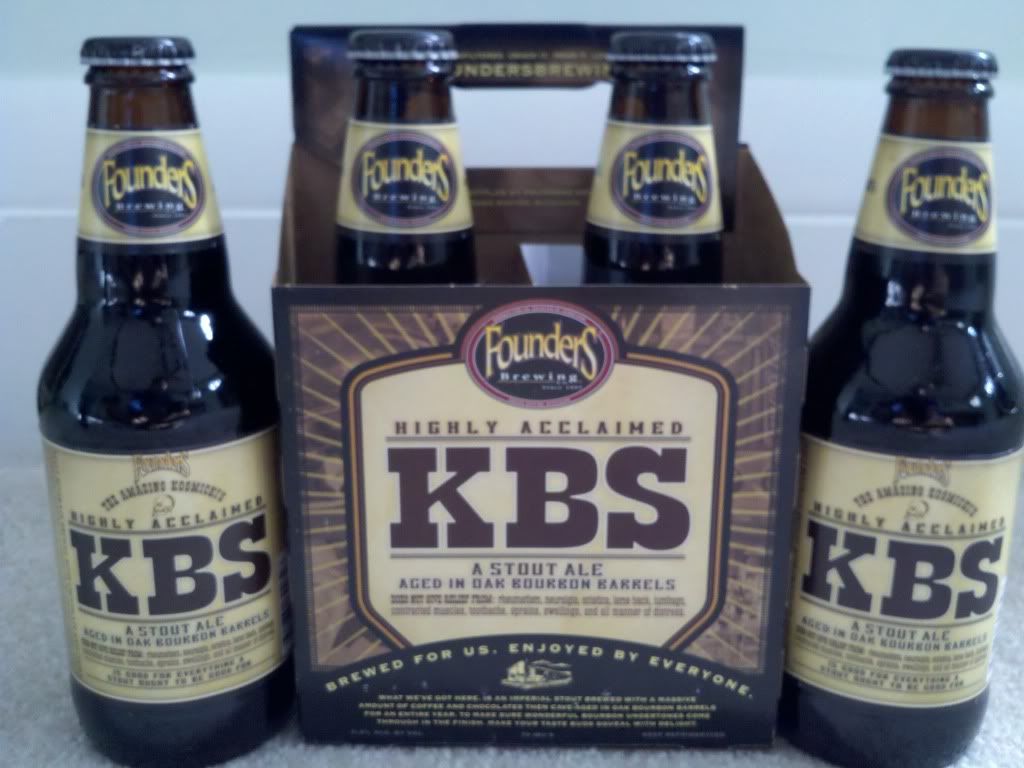 First and foremost I have to thank Glenn Grant from Heinen's for saving me a 4-pack on release day. Without his help I might not have gotten a chance to review this limited release beer! KBS aka Kentucky Breakfast Stout is one of those once a year beers that craftbeer fanatics go crazy about. I'll be honest, I've never had KBS before, so how did this brew stack up to the hype??
Draft Version
My Thoughts:
I was lucky enough to have this beer both fresh on draft at Fat Head's and in the bottle. The differences between the two were noticeable mostly in the smell and taste. The appearance of this beer was the same no matter what the pour. It poured dark black with a beautiful tan head. The head went away quickly and left a small tan rim for the remainder of the beer. The smell on draft was bourbon, chocolate and coffee in that order in terms of strength of scent. In the bottle, it smelled more balanced between the three main components. If I had to pick a favorite smell I'd go with a slight edge to the bottled version. Taste wise is where for me I found the biggest differences. On draft the bourbon and booze hit me up front pretty strong. After few more sips, and some warming time, the dark chocolate cames through to help balance out some of the bourbon. On the tail end of the draft version a mild coffee bitterness becomes present with only a hint of vanilla. The draft tasted better with each sip and with every second of warming that occurred. The bottled version of KBS was virtually the same with one exception, the vanilla came through on my palate much sooner than it did on draft. Not only did it come to life sooner, but it came on stronger. The bottled version was good, but for me the draft won hands down. The mouthfeel of this beer was the same no matter what pour. A super smooth and creamy full bodied brew with low/mild carbonation. Drinkability should be referred to as sip-ability for this brew. This is a wonderful beer to sit back, sip and enjoy. Sure I could drink a few of these, but at 11.2% be careful! I have one left aging downstairs, and I cannot wait to buy KBS in 2012!
Serving Type: 12oz bottle and On Draft
My Rating: Overall 97.25/100
look: 5 | smell: 5 | taste: 4.75 | feel: 5| drink: 4.75