Here is what the Brewer says:
The Sculpin is a testament to our humble beginnings as Home Brew Mart. It showcases bright flavors and aromas of apricot, peach, mango & lemon. The lighter body also brings out the crispness of the hops. This delicious Ballast Point Ale won a gold medal at the World Beer Cup 2010 in the International Pale Ale category. The Sculpin fish has poisonous spikes on it's fins that can give a strong sting. Ironically, the meat from a Sculpin is considered some of the tastiest. Something that has a sting but tastes great, sounds like a Ballast Point India Pale Ale.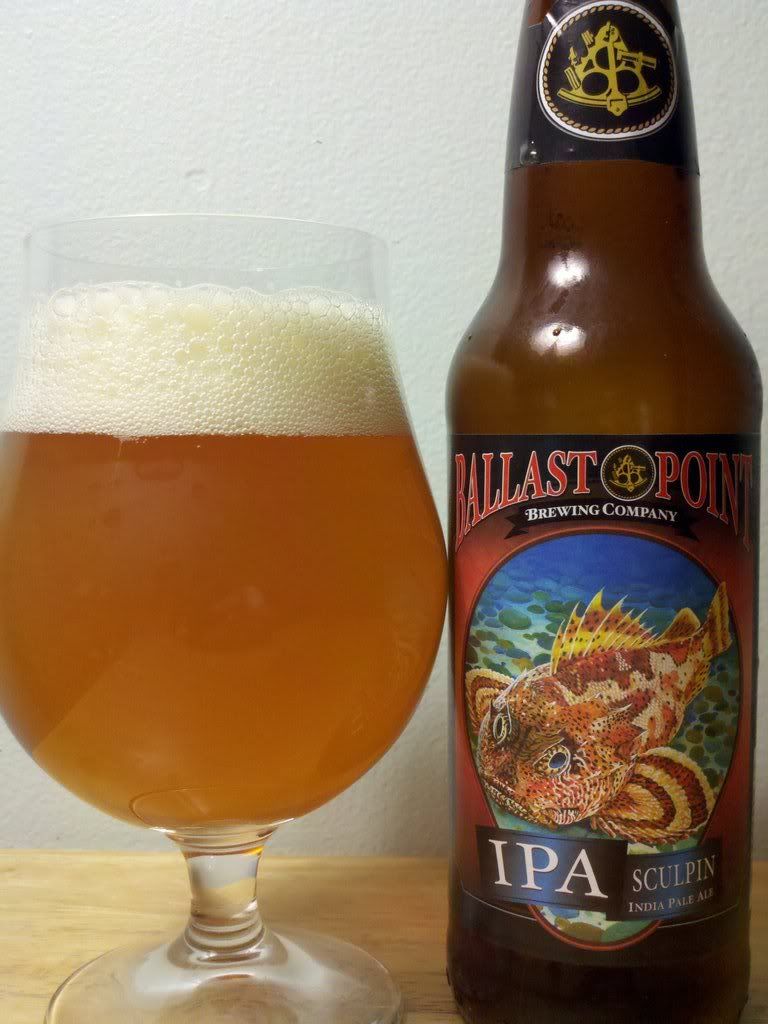 My Thoughts:
I was really happy to find this IPA when back in PA recently. I had a chance to sample this during the IPA/DIPA Blind Tasting with Bobby from Bobby Likes Beer, and I rated it 2nd out of the 6 IPAs! Here is what I thought about this beer when I had it all by itself. This beer poured a a hazy, cloudy orange/yellow with significant head that quickly diminished to a small amount. The head that was left remained for most of the drink, and left streaky lacing. The smell was strong of fresh grapefruit and citrus, which I very much enjoy in an IPA. The taste followed the nose very closely. Strong flavors of grapefruit upfront are quickly complimented by other citrus flavors like mango and tangerine. This beer is so well balanced from start to finish. The finish leaves you with a very pleasing bitterness which shows both a hint of pine with some pale malt backbone to give it some body. The mouthfeel of this light/mild bodied IPA is excellent with above average carbonation. The drinkability is outstanding. I wish I would have picked up more bottles. This would be a staple in my beer fridge if it were sold in Cleveland! I can now clearly see why in a blind test I ranked this right behind my all time favorite IPA, Fat Head's Head Hunter.
Serving Type: 12oz Bottle
My Rating: Overall 97.25/100
look: 5 | smell: 5 | taste: 4.75 | feel: 4.75| drink: 5