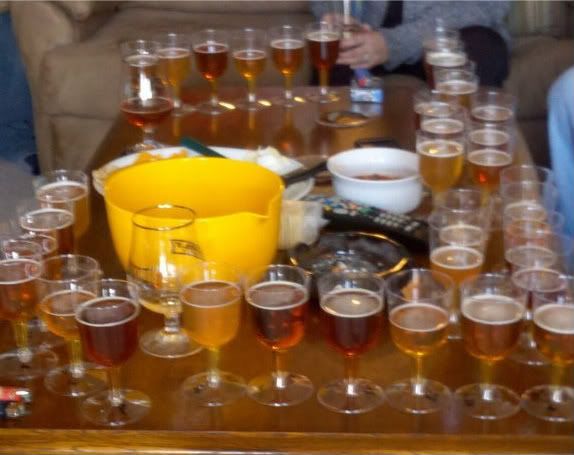 A few weeks ago I ran into
Bobby Likes Beer
, his wife, and his friend Paul while I was at the Winking Lizard. Bobby mentioned that he was going to do an ultimate IPA/DIPA blind tasting and that I should come since I am a hophead. He had my interest at this point. Then this past Saturday I ran into Bobby and Paul again at the Winking Lizard World Tour Finishers party and they once again invited me to attend the tasting with them at Paul's apartment. I couldn't turn this invitation down especially after Bobby showed me the line up that he had put together. He explained that every single bottle was no older than 30 days past when it was bottled!
So how was this going to be blind? Well, Bobby came up with a master plan of making this tasting totally blind for everyone involved even himself. It involved different people doing different jobs and two sets of codes to mark our glasses. The moral of the story is that this was 100% totally blind and the only thing we knew was what beers were in each round.
Round 1---IPAs
This round included arguably six of the finest IPAs you will find anywhere in the country.
Troegs Nugget Nectar--I've had this before and loved it
Fat Head's Head Hunter--One of my all time favorites
Surly Furious--New to me
Brew Kettle White Rajah--Had it before and liked it
Russian River Blind Pig--New to me
Ballast Point Sculpin--New to me
For the purpose of this tasting I am not going to review each beer because that was not my mission. My goal was to blindly see which beer was the best of the best based on look, smell, taste, mouthfeel, and drinkability. Every beer in this group was great, some just stood out more in terms of flavor, bitterness, and mouthfeel. Those that did, ultimately rose to the top of my list. (Bobby thoughtfully brought some crackers to help us cleanse our palates throughout the tasting process.) Blindly, here is how I ranked them:
Fat Head's Head Hunter
Ballast Point Sculpin
Surly Furious
Brew Kettle White Rajah
Russian River Blind Pig
Troegs Nugget Nectar
Head Hunter for the most part was #1 on most peoples list. Everything about this beer stood out in a good way and was my clear favorite. I was shocked that the Rajah came in 4th for me and I was stunned that I actually had Nugget Nectar last! It just goes to show you how good of a line up this really was. After round one we thoroughly cleaned off our palates with crackers, chips, and even a little pizza.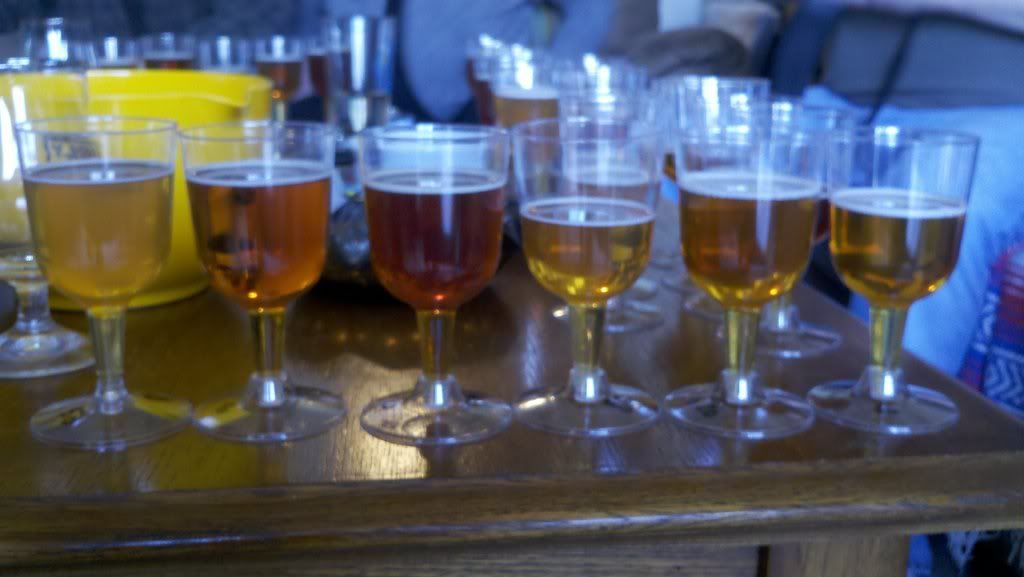 Round 2--Double IPAs
Round 2 again featured six of the most highly rated Double IPAs you can find anywhere!
Russian River Pliny the Elder--New to me
Three Floyds Dreadnaught--New to me
Bell's Hopslam--One of my favorites
Founders Double Trouble--Excellent DIPA
Surly Abrasive--New to me
Firestone Double Jack--New to me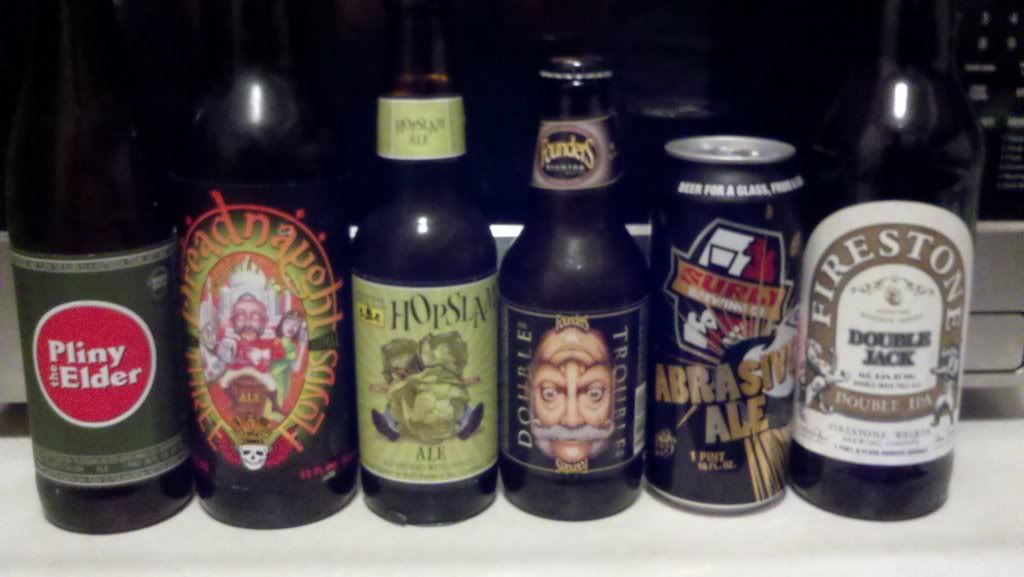 This round really started off with a bang. We first all noticed the colors were much more similar across the board so smell, taste and mouthfeel really played a major role with ranking these. The hop levels were clearly kicked up a notch in both the smell and flavor departments. In the end here is how my DIPA rankings looked.
Surly Abrasive
Russian River Pliny the Elder
Three Floyds Dreadnaught
Founders Double Trouble
Firestone Double Jack
Bell's Hopslam
These results shocked myself and even the others around me. What was so shocking was that most of the 6 people doing the tasting had Hopslam at the bottom or very near the bottom. This is one of my highest rated beers and I just placed five other brews ahead of it...clearly and eye opener for all of us. The top three in my list could have went in any order. It was extremely difficult and I kept switching back and forth until I finally ran out of beer.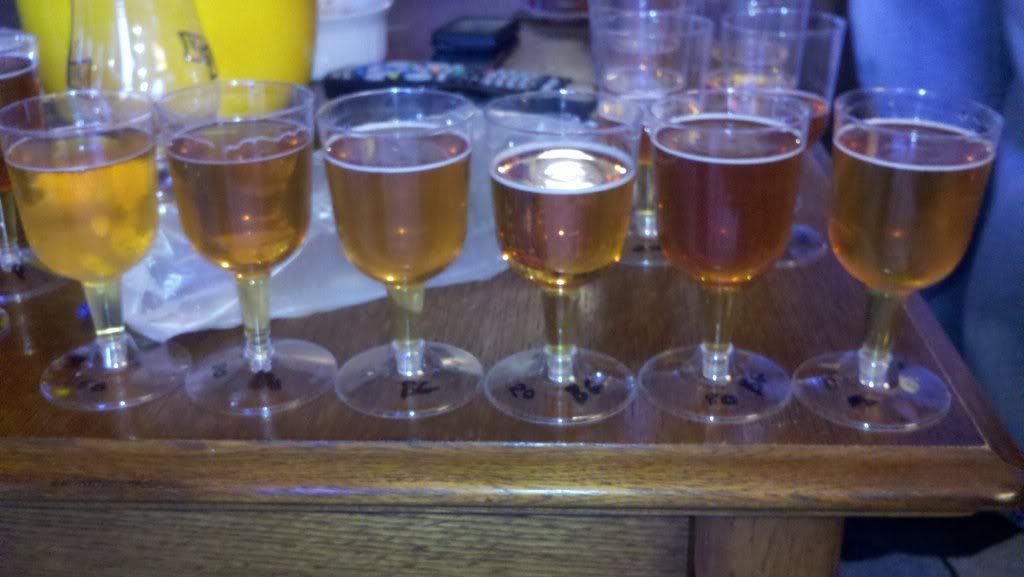 Here are some lessons I learned today. First, Head Hunter its the best single IPA I have ever had, and even against the DIPAs it was just as good. Second, Hopslam was overrated by most people around the table. Third, I wish Ohio would sell more beers and these laws restricting beer would go away. If we can buy every wine or liquor, why can't we buy certain beers like Russian River? Lastly, craftbeer people are awesome!
I want to thank Bobby and Paul for inviting me and for setting up such an amazing tasting. It was really fun to sit around and compare flavors, ideas, and thoughts about all these great brews. Next, I'd like to recommend to everyone to do a blind tasting one day with some of your favorite brews. It really is a great learning experience and you might find out that something you love isn't really your favorite after all!