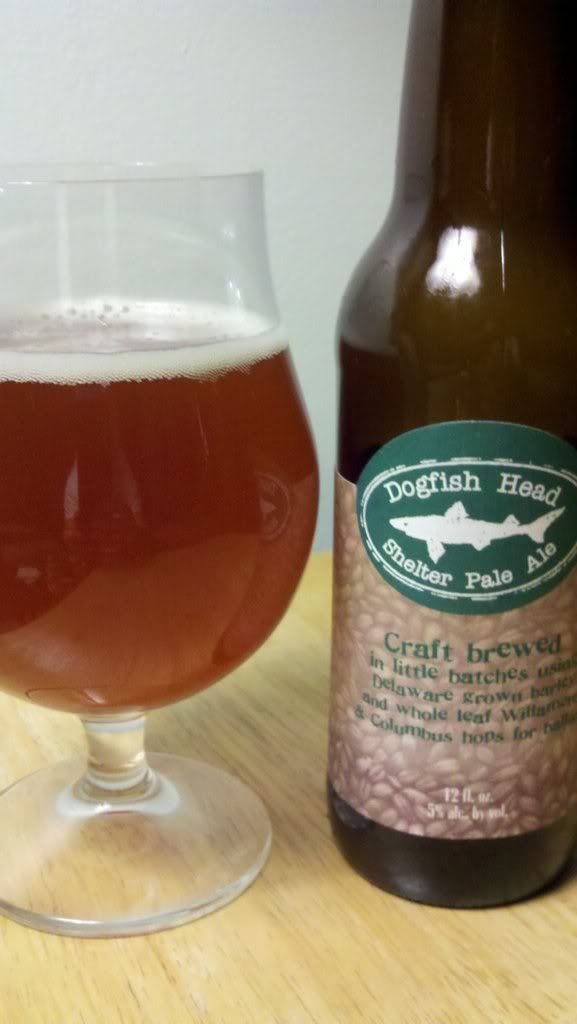 Here is what the Brewer says:
This is our original brew (we began it all making this very beer on the original teeny, tiny brewery at our Rehoboth Beach brewpub back in 1995) and our most approachable beer. Shelter Pale Ale is brewed with a premium barley and northwestern Willamette & Columbus hops. The beer has a fine malt backbone and a slightly nutty flavor. Shelter Pale Ale is a versatile, quaffable beer.
We named this beer 'Shelter Pale Ale' because we liked the concept of a shelter as being a place you come home to. It made sense for this beer, our original beer.
Shelter Pale Ale is brewed all year long, but it is distributed exclusively in the Mid-Atlantic region of the United States. You can usually find our Shelter Pale Ale on tap at Dogfish Head Brewings & Eats in downtown Rehoboth Beach, Delaware and other great beer stores in our neck of the woods.
5%ABV 30IBU
My Thoughts: I would like to first thank John A. Fay, @JohnAFay on Twitter, for providing me with this brew to review. This beer poured a hazy orange with a slight head that quickly went away to leave just a ring around the edge. The barley really comes through in the smell as does the malt. I got the sweetness in the smell but not really any of the hops. The flavor is more of the same story that my nose told me. The malt and barley flavors are dominate at first, but a slight spicy hoppiness tries to come through in the end a little bit. I definitely get the nutty flavor that was describe by the brewers too. The body was medium with a little above average carbonation. This is a beer that I can drink one or two of, but after that I would be looking elsewhere. I'd take a 60min IPA over this all day every day!
My Rating:
Overall: 65.5/100
look:4 smell:3.5 taste:3 feel: 3.5 drink:3