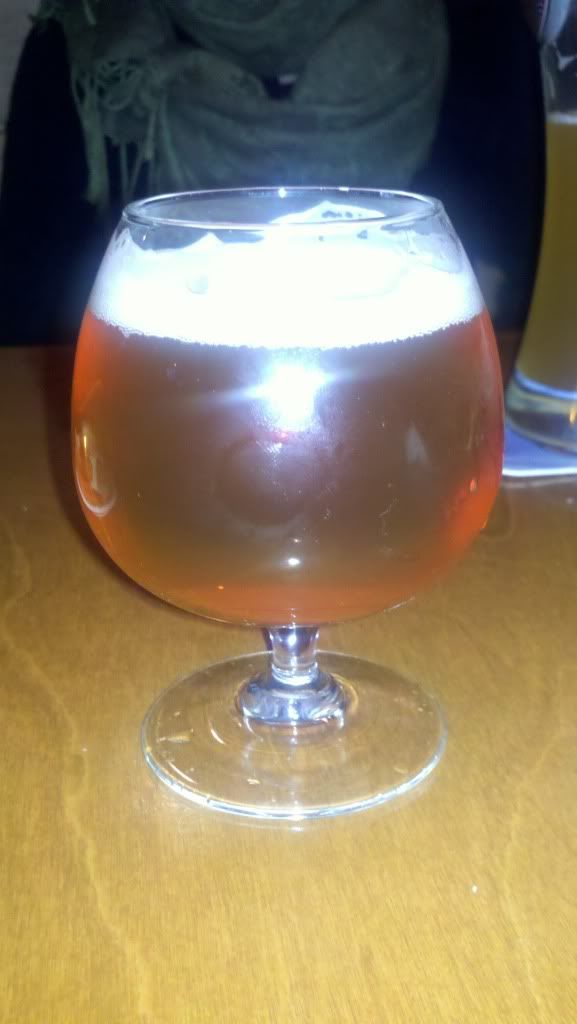 Here is what the Brewer Says:
Pizza Port Poorman's Double IPA , Ocean Beach, CA
A big West Coast Imperial IPA. 2010 Alpha King Challenge Champion. People's Choice award winner, 2010 Fat Head's Celebration of the Hop.
My Thoughts: I was a big fan of the initial color of this beer, a clearer orangish brown.
The head on this beer was a little more substantial and remained nearly throughout the drink. The smell was full of pine and grapefruit along with a hint of orange as well. There was also a hint of toasted malt in the smell which I'll get to later! Upon first tasting I knew I liked it better than the Killer Dana Imperial I had earlier in the night. The best thing about this brew was that the hops did most of the talking and the toasted malt played just a tiny role adding some more body to this beer. The carbonation in the beer helps the malt play that minor role while allowing this beer to have some body and remain wonderfully hoppy. Poorman's would be a very easy beer to drink over and over again because the flavor is so crisp and clean and the 9.5%ABV is hidden very well!
I was a big fan of this beer and it is no wonder it won people's choice at the Fat Head's Hop Event in 2010!
Serving Type
: Draft
My Rating
: Overall 95/100
look: 4.75 | smell: 4.75 | taste: 4.75 | feel: 4.75 | drink: 4.75