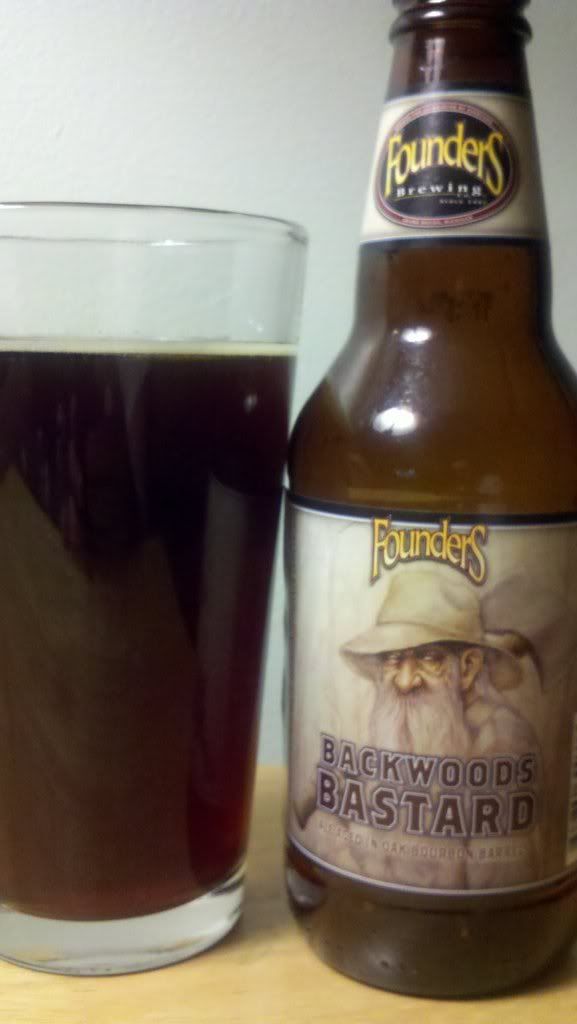 Here is what the Brewer says:
Expect lovely, warm smells of single malt scotch, oaky bourbon barrels, smoke, sweet caramel and roasted malts, a bit of earthy spice, and a scintilla of dark fruit. It's a kick-back sipper made to excite the palate.
10.2%ABV 50IBU
My Thoughts: This beer poured a dark, very rich looking brown color with very little brownish colored head. The smell was of oak, bourbon, sweet molasses, and it was roasted/smokey! The smell was excellent and complex, it was hard to not sip this right away! When I did take a drink the oak and bourbon flavors burst through initially and were followed by the sweet flavors of mild vanilla, molasses and oak. There is also an interesting hop bite on the tongue which leaves a slight dry/bitterness in the end to balance the sweet flavors of this brew. I was thoroughly impressed with how they incorporated these flavors into one powerful brew that is bourbon heavy in terms of flavor. The medium carbonation in combination with the hops provide a slight tingle to the sweet, oaky and bourbon flavors. They do all this while maintaining a more than medium body. If you are a fan of bourbon and don't mind a powerful brew the Founders Backwoods Bastard will no disappoint you!
My Rating:
Overall 83.75/100
look: 4.5 | smell: 4.5 | taste: 4 | feel: 4.25 | drink: 4