Here is what the Brewer says:
A tempest on the tongue, or a moment of pure hop bliss? Brewed with a dazzling blend of American hops and Scottish malt, this crimson-hued ale delivers waves of citrus, pine and caramel-toffee. For those who favor flavor, Furious has the hop-fire your taste buds have been screeching for.
STYLE: American India Pale Ale MALT: Pale Ale, Golden Promise, Aromatic, Medium Crystal, Roasted Barley HOPS: Warrior, Ahtanum, Simcoe, Amarillo YEAST: English Ale ABV: 6.5% IBU: 99 AVAILABILITY: Cans and Kegs Year Round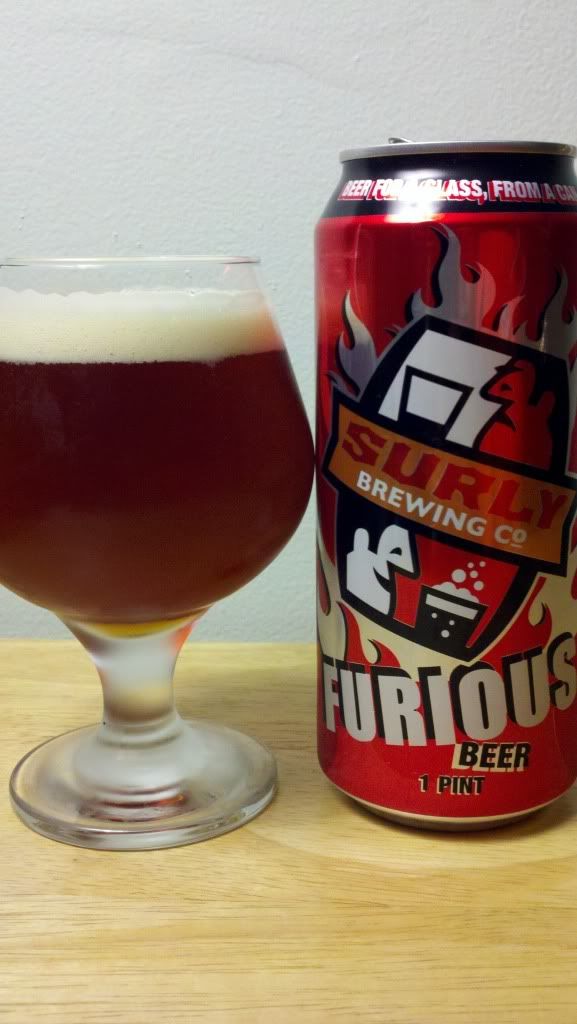 My Thoughts:
Appearance: This brew poured a dark hazy rust color with a fair amount of head after a vigorous pour. The head did dissipate rather quickly but sticky lacing remained throughout.
Smell: The nose of this beer jumps out of the glass. Rich, sweet sugary caramel malt sweetness is balanced by a boat load of citrus, pine and grassy hops. To me this 99ibu IPA was the perfect balance of bold hops and sweet malt on the nose. I thoroughly enjoyed taking a sniff of this brew before each and every sip.
Taste: Speaking of the sips. I'll come right out and say it, this beer tastes almost as good as it smelled. Bold piney hops first hit your palate and you think they might take over. However, they are quickly followed by a burst of citrus and then a vast amount of earthy malt that simply balances this brew to near perfection. The balance that is apparent mid-drink is then followed by a very pleasant lingering citrus bitterness in the after taste.
Mouthfeel: The body on this beer is slightly above average thanks to the extra malt, and the carbonation was also slightly above average. Both of these qualities were very fitting for this brew and with the stickiness from the sweet malt, this beer provided a very good mouthfeel.
Drinkability: At 6.5% abv this beer doesn't weigh in super heavy as the 99ibu might suggest. I find this beer very easy to drink and I would recommend it to any hop head who can get there hands on it. This brew can only be found in and around Minneapolis Minnesota, and I thank Rick Seibt for bring this brew back for me. This is one of the top American IPAs I have had the pleasure of drinking!
Serving Type: 16oz can
My Rating: Overall 92.4/100
Look:4.5 | Smell:4.8 | Taste:4.5 | MouthFeel:4.7 | Drinkability:4.7