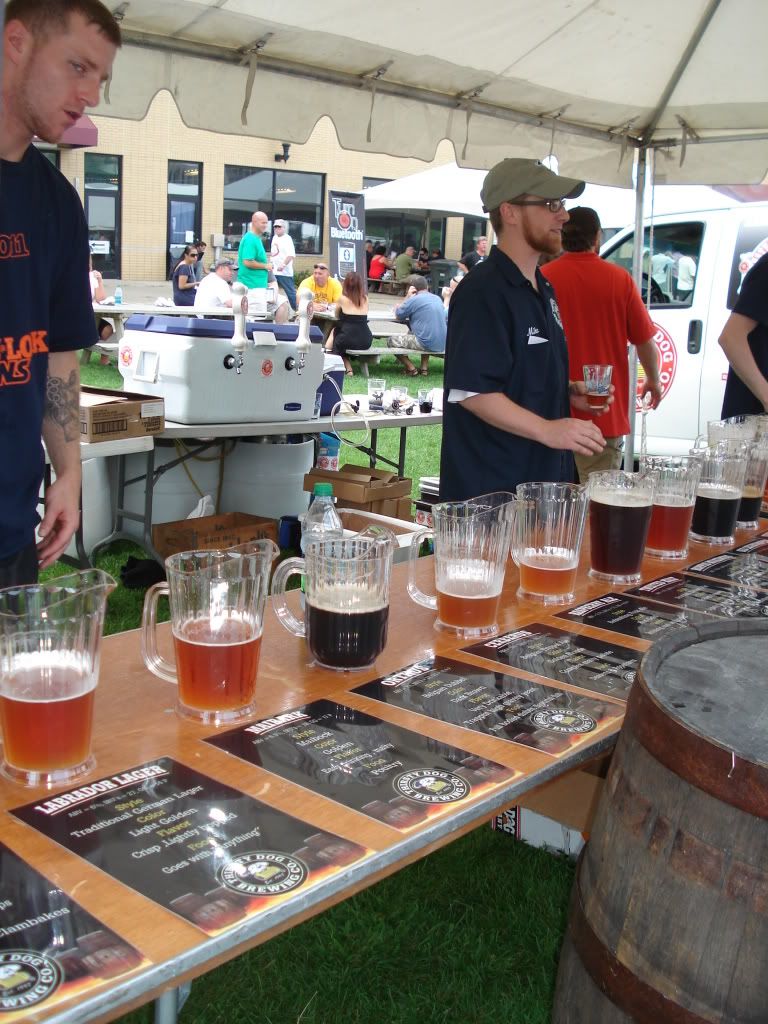 Thirsty Dog Brewing
The volunteers and brewers that were pouring the beers were fun and friendly. You can tell they liked what they were doing and were passionate about craft beer. I do wish that more of the actual brewers were in attendance, especially out of the breweries that were from Ohio. Craft beer lovers always enjoy a chance to chat it up with a brewer. Today I had the pleasure of talking with the Rick & Thomas from Willoughby Brewing, Dave of Cellar Rats and a few more area brewers. Getting to know the people behind the beer is important, and I hope to see more brewers make it to these types of events.
Old Leghumper Porter being poured over coffee beans.
Thanks Paul for making me a "Hop Bunny" for the day!
Now as smoothly as this day went, there were just a few hiccups along the way. Many brewers circle attendees were looking forward to starting their day with Jackie O's selections. Unfortunately, due to mix-ups they were not ready to pour when the gates opened. Thanks to some quick thinking by the staff, and some help from Bobby Likes Beer, the beer eventually started flowing and we were able to try what they had to offer.
Another thing that disappointed a few people was that a crowd favorite, Fat Heads, ran out of beer at 3:30pm. (The event went until 6pm.) I was lucky enough to snag a fresh Hop JuJu before they ran out, but for the people who had regular tickets with an admission time of 2pm I think running out of beer that soon just shouldn't happen.
The final hiccup actually turned into the best part of our day. Maumee Bay Brewing had two beers scheduled to be on tap that we all really were looking forward to trying, a Breakfast Stout and an IPA. As you can see in the picture below they never were tapped, they simply sat on ice all day! Finally around 5pm myself and another craft beer community member, Bill, decided to ask if we could tap and pour the beer for the public to try. We were given the go ahead by John Najeway of Thirsty Dog and Christine Montague, who helped put this event together. After searching for taps, we finally got some major help from Buckeye Brewing and we were able to tap into the breakfast stout which ended being a great beer. This was the highlight of my day, and I see why the volunteers love what they are doing! Pouring beer for the public was so much fun!