The Great Lakes Burning River Fest took place this past Saturday and Sunday on Whiskey Island. My fiancee, myself, and a few friends went down to the event for the Sunday session. Parking was a breeze, and better yet free! There was a school bus shuttle waiting to pick us up and drop us off at the gate. Check in was also very simple, and before we knew it we had our sights set on some fresh Christmas Ale.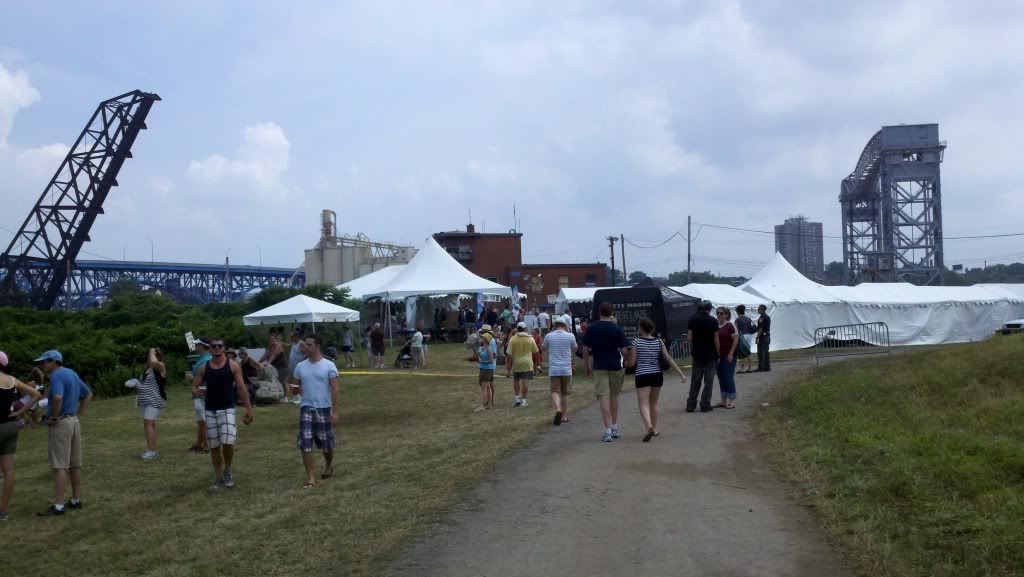 In order to buy beer you had to purchase tickets and get a wristband that showed you were "of age". This eliminated the need to be carded each and every time we bought beer, good idea! There were three beers available at various beer tents throughout the event. Christmas Ale, Burning River Pale Ale, and The Wright Pils were the three options. All beers cost $5, and the Pale Ale and Pils came in 16oz glasses and the Christmas Ale came in a 12oz glass. The plastic cups we got with each beer were actually made of corn, and when we were ready to throw them away, a helper by the trash area showed us where to place them. In fact, each trash area had someone stationed at it to help people place trash in the proper wast receptacles.
Food wise there there were many food tents set up around the event including a tent which had chef demos free of charge. In addition to the tents, two food trucks showed up, Umami Moto and the new Hodge Podge Truck.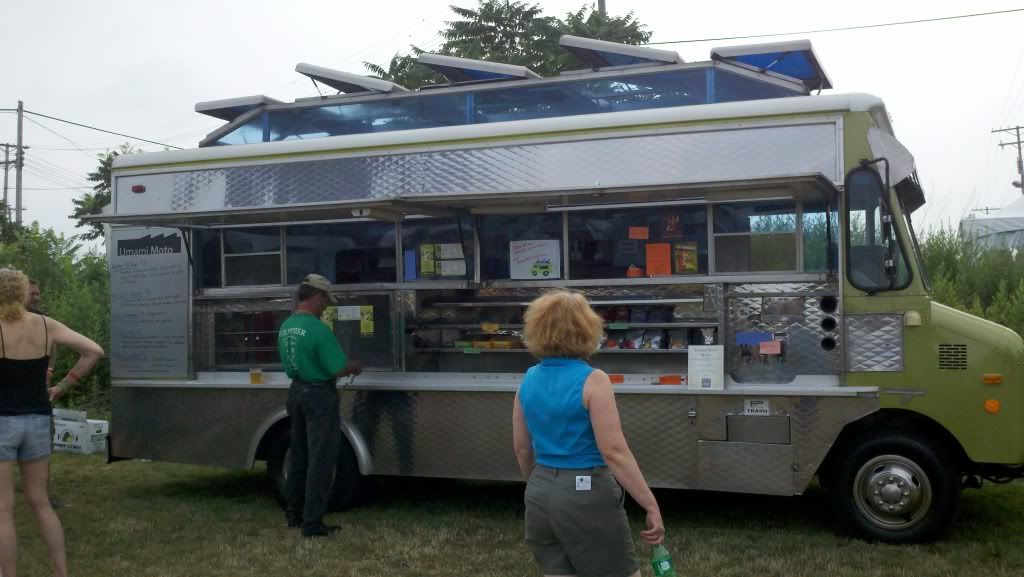 We decided to go with the Hodge Podge truck and ordered a Hodge Podge Burger, a Turkey Burger and the Sweet Potato Tots. Lets just say we made a very good choice! The burger was cooked perfectly and was well seasoned. The combination of a juicy burger, fresh greens and the Hodge sauce made this one of the best burgers I've had in a long time. The sweet potato tots were little bites of heaven, perfectly crispy on the outside and soft and flavorful on the inside.
There was also live music being played everywhere. The main stage was set up in front of the lighthouse. There were also a few other smaller areas set up for one man bands.
We picked seats behind the lighthouse and had the pleasure of listening to two excellent musicians while enjoying the wonderful views of the lake!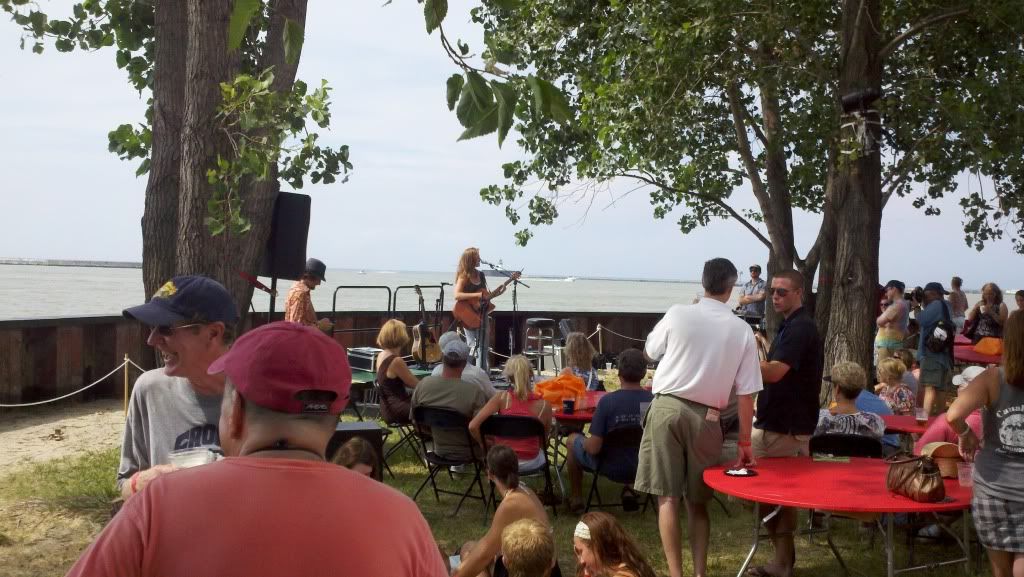 One very smart thing that was recommended to us was to bring our own chairs. We were so glad we did because we found a nice shady spot behind the lighthouse that had a beautiful view and an even more beautiful lake breeze. If you attend this event next year you should strongly consider bringing your own seats. There were tables and chairs provided, but only enough for about 1/4 of the people in attendance.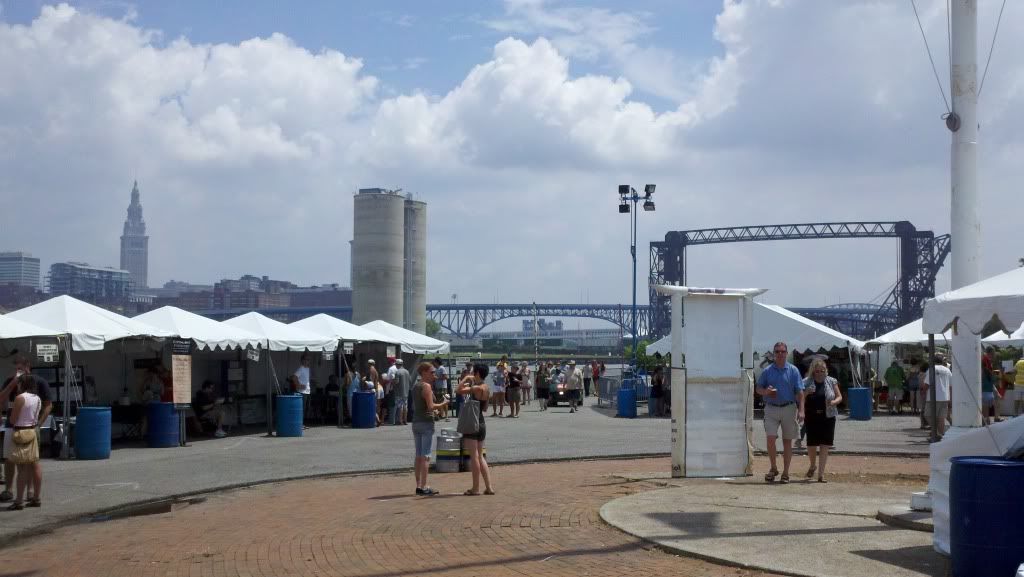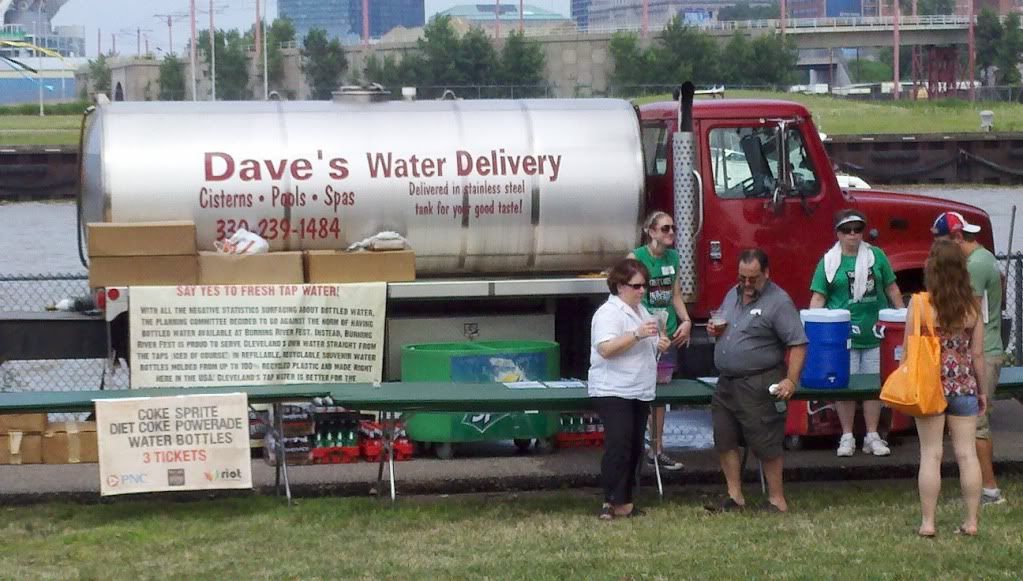 We had a blast spending our summer afternoon along the shores of Lake Erie. We had a chance to drink, eat and have fun all while supporting a great cause, The Burning River Foundation. For more information on how to help keep Lake Erie and its waterways safe check out the
Burning River Foundation's webpage
.