Here is what the Brewer says:
A hophead's dream beer. This Imperial India Pale Ale has an opening salvo of mango, peach and citrus hop aromas that sit atop a pronounced caramel malt backbone. Although Dreadnaught is a strong and intensely hoppy ale, its complex flavor is both smooth and memorable.
9.5% ABV 99IBU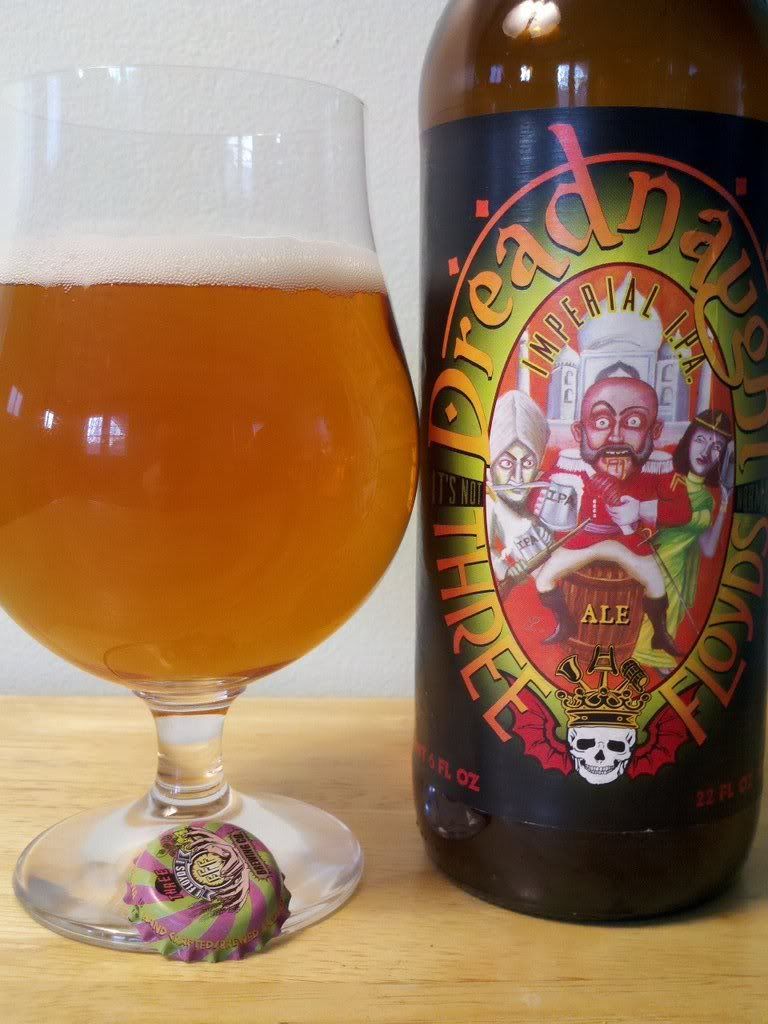 My Thoughts:
This beer poured orange in color and was somewhat clear, although not transparent. The head was white and foamy, but quickly reduced in size. The beer had nice sticky lacing throughout. The smell was very strong, fresh grapefruit, orange and citrus burst out of the snifter and are very appealing. Based on color and smell I was praying the flavor lived up to the hype. The first thing you notice about this brew is that it is "bubbly" on your tongue with strong flavors of grapefruit and orange. The bubbly notes quickly smooth out mid-drink with the grapefruit and orange continuing to dominate, until a bit of pine starts to creep into your taste buds along with a little more body during the second half of the sip. The aftertaste is excellent. A lingering pine and citrus bitterness leave you wanting to quickly take another sip! The carbonation is medium while the body has a wonderful silky mouthfeel. The nearly 10% abv is very well masked in this brew! Drinkability for me is as good as it gets. When this beer is fresh there is no doubt that it will be one of the best double IPAs you'll find! I just hope my buddy goes back to Indiana very soon so he can pick me up another fresh bottle!
Serving Type
: 22oz bottle
My Rating
: Overall 98/100
look: 5 | smell: 5 | taste: 4.75 | feel: 5| drink: 5