Last night Winking Lizard in Independence tapped 4 very unique brews. Troegs Brewery made 4 brews with the main difference being only the types of hops used in the process. They called it their Scratch series #37-#40 and these are all American IPA's. I was very excited for this event, and I was very lucky that my fiancee is nice because she let us stop really quick before we headed downtown to meet friends for dinner. This meant I only had 30 minutes to try all 4 brews. Luckily the Lizard was selling flights of these beers so I was able to get a 4oz pour of each brew! My fiancee actually took the notes for me as I focused on the tasting. (Yes she is really nice!)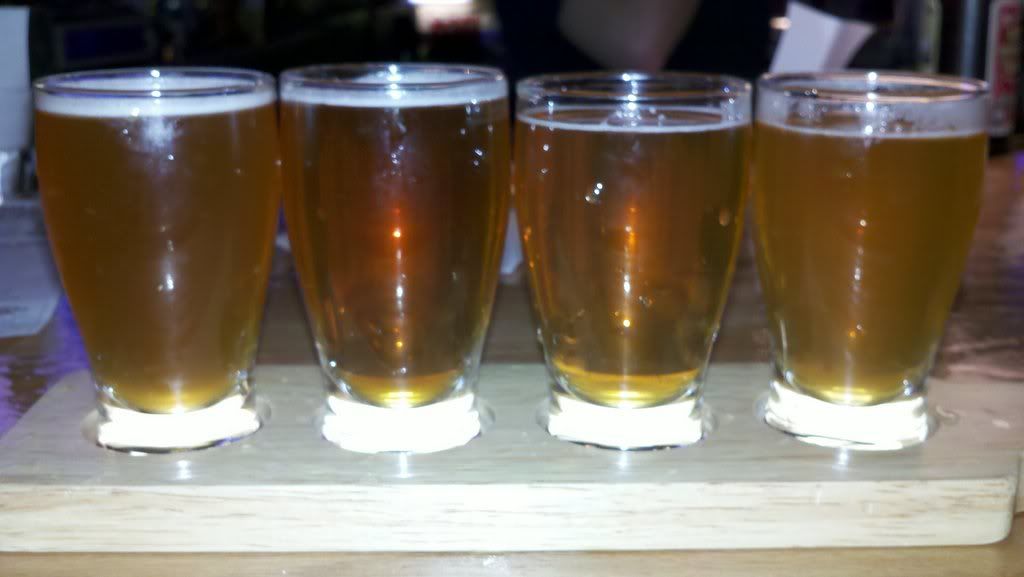 From Left to Right 40,39,38,37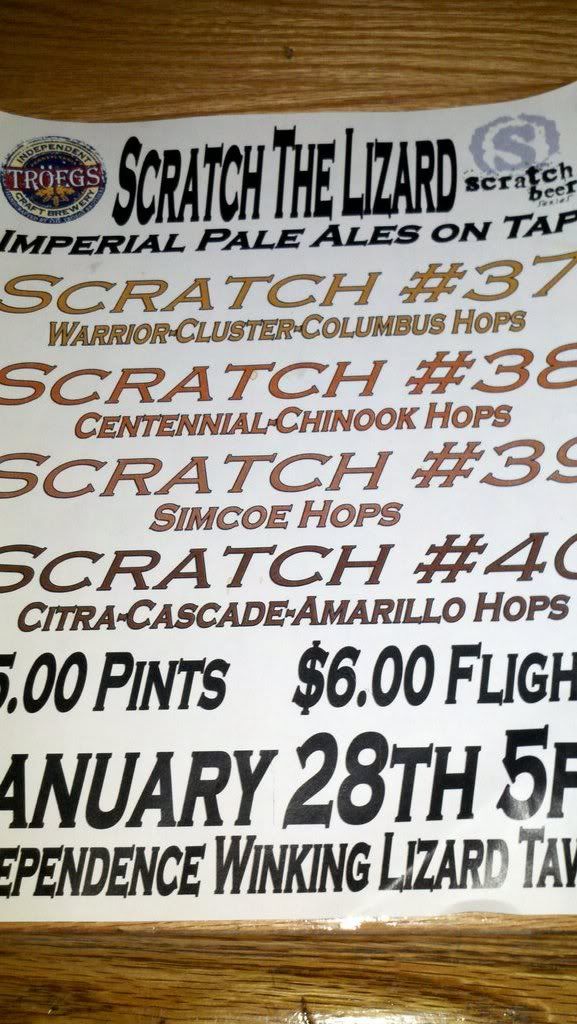 My Thoughts:
Scratch #37
Brewed with Warrior, Cluster and Columbus Hops
Appearance was a hazy orange/yellow with faint smells of floral/herbal hops. I found only a mild hop taste and aftertaste. Mouthfeel was lighter on this one as well. It was my least favorite, thus I ranked it 4th.
Scratch #38
Brewed with Centennial and Chinook Hops
Appearance was much clearer. Not to much nose as #37, but still some floral scent. Taste was slightly better than #37 because there was slightly more floral bitterness to this one, but still I didn't love this one. I ranked it 3rd.
Scratch #39
Brewed with Simcoe Hops
Color was a little darker than the others, and mostly clear. Pine and grapefruit come out in the nose and in the flavor. This beer got much better at it warmed. In fact, it went from last on my list, up to 2nd (and nearly 1st) because letting this beer warm up a bit really brought out the bitterness that went with the highest carbonation in the bunch. I personally like the fresh taste of simcoe hops.

Scratch #40
Brewed with Citra, Cascade and Amarillo Hops
This one just barely edged out #39 for my favorite...I mean BARELY! Color was cloudy and the smell had a distinct citrus note to it. This beer is not overly bitter, but it seemed very balanced from start to finish. To me this beer had the best long term drinkablity. 8.1%ABV 90IBU
The Scratch Beer series has developed into an experimental beer series where we can tinker with new techniques and brew with non-traditional ingredients. Each batch is extremely small and cases and growler fills are only available in our tasting room. Make sure to stop in for a taste and let us know what you think.
For the end of this four-beer IPA series, we pulled out some hop warhorses—Cascade and Amarillo—and incorporated a new favorite—Citra—into the mix.
Following a similar grain bill to Scratch #38 and #39, #40 is a hazy orange beer with an off-white head, and plenty of hops to spare. In fact, this could be a Troegs record as more than three pounds of hops were added to each barrel brewed!
Bready Munich malts and ample dry-hopping with Citra and Cascade hops gives #40 a sweet and tropical citrus aroma, akin to a hoppy Orange Julius, while a huge Amarillo hop addition in the kettle provides a long, lingering bitterness.
This cycle of uber-hoppy beers has been a blast for us to brew and drink, and gives us plenty of beer for thought as we devise future hoppy concoctions.