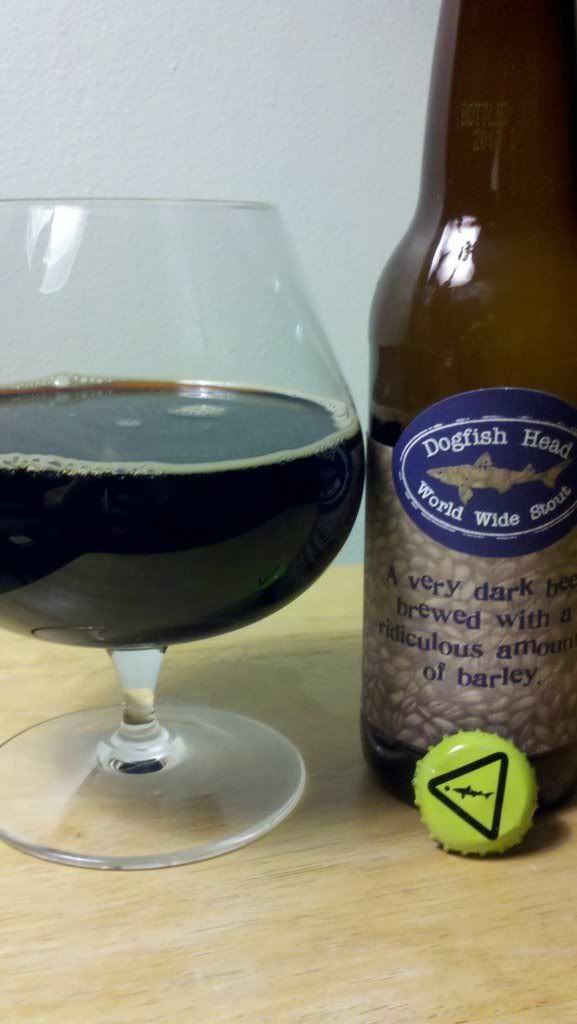 Here is what the Brewer Says:
YES! This is the beer you've heard so much about. Dark, rich, roasty and complex, World Wide Stout has more in common with a fine port than a can of cheap, mass-marketed beer. Brewed with a ridiculous amount of barley. Have one with (or as!) dessert tonight!
18% ABV 70IBU
My Thoughts: This beer pours black with a slight tan head that went away faster than I could take a picture. The tan lacing remained for about half of the drink then went away. The smell was interesting. Very earthly, the barley did come through with a hint of coffee and the ABV! The first taste to hit your mouth is some dark fruit and some raisins. The ABV really comes out mid-drink along with flavors of coffee, chocolate and some earthy nuttiness. The after taste is a little stronger on the ABV, but never over powering. Along with the coffee and chocolate a smokey note lingers in your mouth. Mouthfeel is creamy, silky and smooth with average carbonation. As this beer warmed up a bit it actually got smoother. You do notice that this beer is high on the percentage scale, but this beer is totally drinkable and enjoyable. I could drink two of these back to back no problem, but by the end of one beer you do notice the ABVs kicking in a bit! Dogfish head really did a great job making a powerful, yet remarkably enjoyable imperial stout! (I purchased this bottle in November 2010 and the bottle has a "2010 D" stamp on the neck.)
Serving Type
: 12oz bottle---A snifter is the preferred glass for this brew.
My Rating
: Overall 94.5 /100
look: 5 | smell: 4.5 | taste: 4.75 | feel: 4.75 | drink: 4.75