Here is what the Brewer says:
Mikkellers Red/White Christmas is a mixture of a British Red Ale and a Belgian Wit Bier. To make sure, that this beer would bring you the Christmas spirit, it has been stuffed with bitter orange peel. American hops, orange peel, Red Ale and Wit Bier in combination makes this beer something special. 8% ABV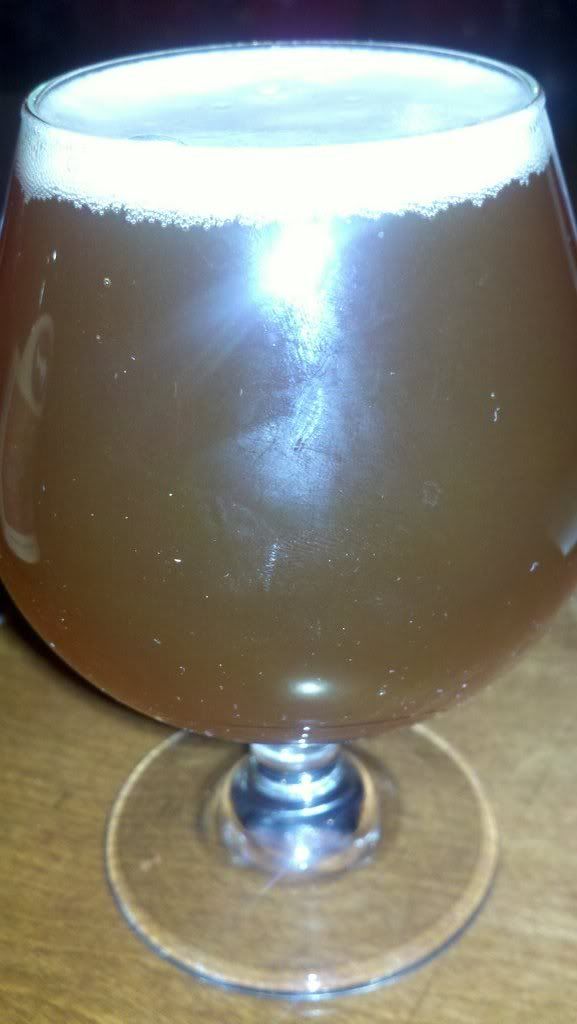 My Thoughts:
I went to Buckeye Beer Engine and they had at least 10 Belgian Style Christmas Ales on draft. I had no knowledge of any of them so I picked the Mikkellers because the description mentioned it was a little hoppier.
Appearance: The beer poured a deep hazy amber color with a significant "white as snow" foamy head. This beer just looked like Christmas in a glass to me.
Smell: The smell was wonderful. Citrus hops and orange came through very strong. There was also a slight hint of toasted nuts. I didn't get much spice on the nose which made me wonder what this beer was going to taste like.
Taste: The taste had me smiling from the first sip....I found a Christmas themed American Strong Ale that was really tasty and hoppy! The citrus hops really stood out from beginning to the end of this brew. This Christmas Ale does not play around with crazy spices, rather it keeps it simple and has hints of toasted nuts and roasted malt.
Mouthfeel: Carbonation was low and the body of this beer is silky smooth!
Drinkability: The drinkability scores high on this beer. The 8% ABV is well hidden in this brew, and I could see myself cracking open a few of these in a row on a cold snowy Cleveland night! I'm so glad we stopped in Beer Engine because other wise I might never have tried this amazing brew!
My Rating:
Overall 95/100
look: 4.5 | smell: 4.7 | taste: 4.8 | feel: 4.8 | drink: 4.8
I'm happy to report that this year, 2011, I have purchased a 1.5L bottle of this brew and I will add to this review what I think of the 2011 bottled version.