If you didn't have a chance to read my
2012 Cleveland Beer Week in Review Part 1
, please check it out! It recaps Friday the 19th through Tuesday the 23rd!
Now, on to the last 4 day of Cleveland Beer Week 2012!
Wednesday the 24th--Columbus Brewing Night at Taphouse and Bells Black Note at Edison's Pub
We kicked off Wednesday with a trip to the Tremont Taphouse for Columbus Brewing night. One of the best beer people you'll find, Tony Corder of Columbus Brewing was coming to town and bringing some really cool brews with him. First, they had a Double Dry-Hopped Cask version of their Bodhi Double IPA. The cask version of this didn't come through as good for me as the regular version. The carbonation in regular Bodhi really helps the hops to pop more than on cask. There was also a Bodhi with Habanero that was pretty impressive. It had a very nice balance of heat and pepper that didn't overshadow the DIPA portion of the beer. The last Columbus brew I had was the Sohio Stout. With a bit more body on this beer, it would have been outstanding. Tony told us they were going to up the body on this beer, so I'm looking forward to trying it again because the flavor was delicious!
Bodhi on Cask
After spending some quality time at the Taphouse a large group of us made our way to Edison's Pub for a very rare tapping of Bell's Black Note! Bell's words about Black Note: "One of the most sought-after stouts in Bell's history, Black Note Stout blends the complex aromatics of Expedition Stout with the velvety smooth texture of Double Cream Stout and ages the combination in freshly retired oak bourbon barrels for months." I don't think there was one person at Edision's that night that didn't love this beer. In fact, I liked it so much I had to have a couple!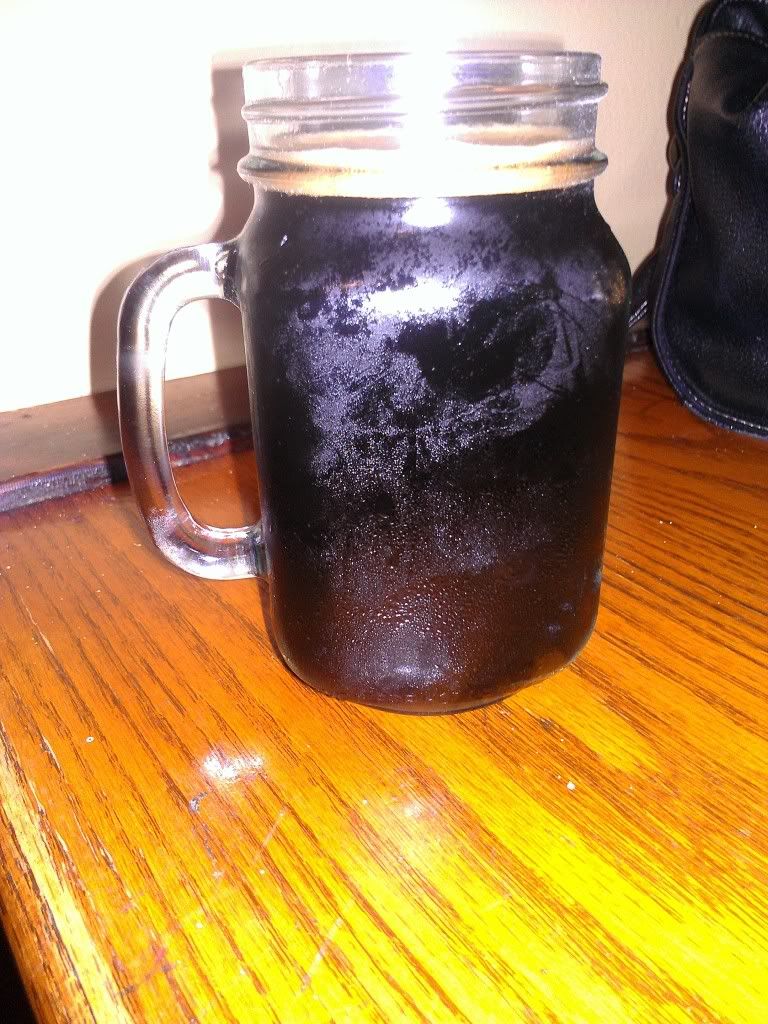 A double pour of Black Note!
Thursday the 25th--Fat Head's and Stone Beer Dinner
Myself, Mitch Steele and Matt Cole
With Mitch Steele, the head brewer of Stone Brewing, coming to town for this beer dinner there wasn't a chance we were missing it! One of the highlights of my week, in fact, was getting the chance to talk with Jason Armstrong of Stone, Mitch Steele of Stone and Matt Cole of Fat Head's. These guys sure do love what they do, and it shows with the passion they have when they are talking about beer and brewing. If meeting them and having a few beers with them wasn't enough, we had one of the best beer dinners I've ever been to, with only a $60 price tag per person. I'll quickly run through each course, each of which was flavorful, well plated and large in portion size! In addition to the food, each course came with a large portion of a beer...far more than a 4-6oz sample that you get at most beer dinners!
Our Aperitif was a full glass of Fat Head's Starlight Lager, which was a perfect light beer to enjoy while getting to know the people around us. Our first bite was a bit more than just a bite! Scallop, Veal Sweetbreads, Fried Grits, Bacon Creamed Corn all paired with Stone Enjoy By 11/9/12 IPA. The scallop was cooked perfectly, the sweetbreads had a great texture contrast of crispy on the outside and soft inside, and the bacon-creamed corn was amazing. Oh, the Enjoy By was pretty good too!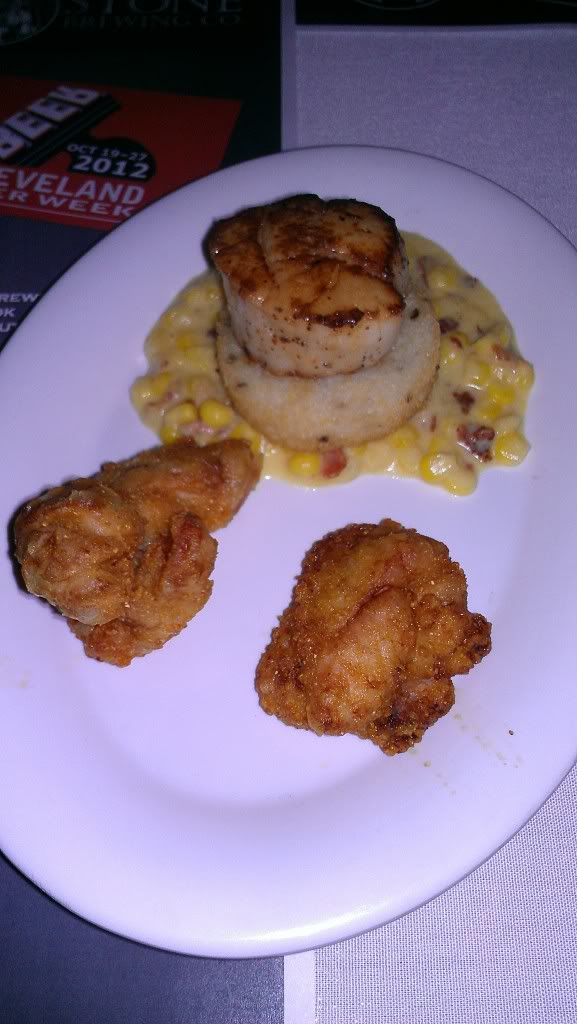 Course 2 featured Pumpkin bisque with Ohio City Pasta pumpkin sage gnocchi, duck confit and creme fraiche paired with Fat Head's Spooky Tooth Imperial Pumpkin Ale. Rich, silky and full of nutmeg, cinnamon, and even a hint of cayenne, the bisque was amazing by itself. Add to that duck confit and amazing pumpkin gnocchi, I could have eaten this all day long! The pairing of the Imperial Pumpkin to me was good, but I think the beer got lost a bit because the bisque was so rich with flavor.
Course 3 featured a frisee salad with apples, walnuts, prosciutto, and whole grain vinaigrette. It was paired with a full glass of Stone Cali Belgique which is a Belgian style IPA. I loved this course because it lightened things up a bit...I was already starting to get full! The food and beer pairing here were outstanding. The Belgian IPA and the vinaigrette were a perfect complement to each other. The salad with apples, walnuts, and a good amount of prosciutto all worked so well together in terms of flavor contrasts.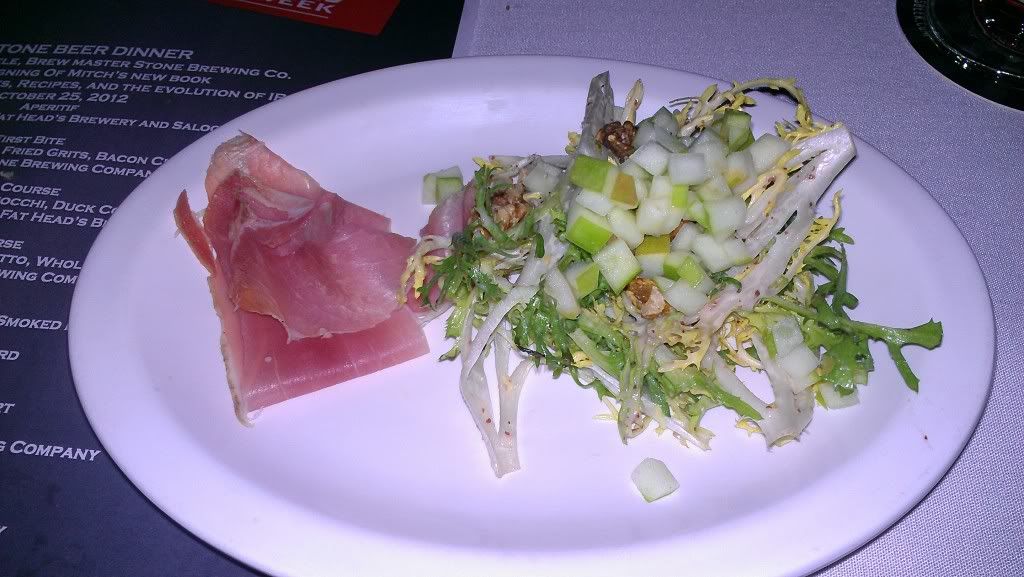 As I mentioned, I was starting to get a little full thanks to the 3 large portions of food and beer. Course 4 was big enough to be an entree at any restaurant. It came with roasted venison tenderloin, sweet potato risotto, smoked mushroom strudel, and a fig demi-glace. It was paired with Stone Oaked Arrogant Bastard. Wow, what a course. The Venison was melt in your mouth tender, the risotto was outstanding, and although I didn't eat the strudel because I don't like mushrooms too much, I heard it was outstanding too! I only wish I had more room in my stomach because I just couldn't finish it all. The Oaked Bastard complemented the venison perfect. I love a big, oaked strong ale with meat, such a good combination!
Our 5th course, the cheese course, was a very interesting take on blue cheese and a cherry tart with a balsamic reduction. It was paired with Stone Old Guardian Barley Wine. The beer was excellent but the blue cheese and cheery tart was just too tart and rich for me. A few bites was all I could handle. I didn't mind because I honestly was 95% full, and knew we still had dessert coming!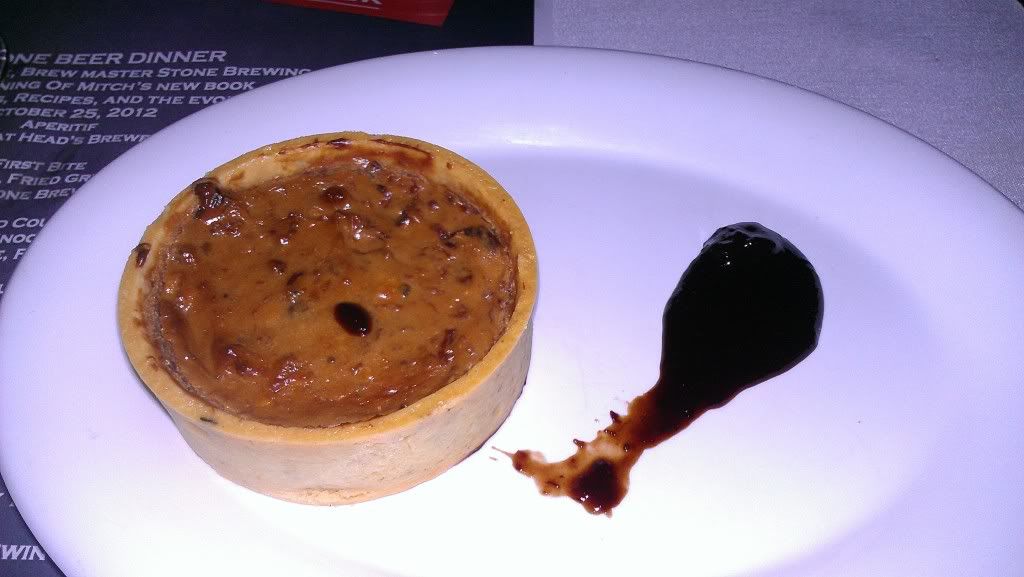 Our 6th food course was dessert and a take-on smores. It was paired with Stone Imperial Stout. I'm sure glad I didn't eat much of the tart because the smores was delicious. Rich chocolate, graham cracker crust, and slightly burnt marshmallows have never tasted so good. The pairing of an imperial stout was a no brainier and we loved every bite of this course!
If all of that food and drink wasn't enough we were also given a glass of Stone Epic Vertical 10-10-10 as our digestif! Great food, great beer, and large portions made this beer dinner a homerun in my opinion!

Friday the 26th-

-Rozi's Troegs Night and Lizard Lanes Big Lebowski Bowling!

Friday night started out with a Troegs Tap Takeover at Rozi's in Lakewood. For $15 we had the chance to sample two different Scratch Beers, Scratch 78 Fresh Hop IPA, the other was Scratch 76 Special Hops Imperial Red. There was also several other offerings including a very tasty Barley Wine called Flying Mouflan, an IPA called Perpetual, JavaHead Stout, Troegenator Doublebock, and Dream Weaver Wheat. This was a pretty laid back experience with some very tasty brews.
The Real Big Lebowski
The fun really picked up once we drove down the street to the Lakewood Winking Lizard. A group of us decided to attend the Big Lebowski Night at Lizard Lanes and I am sure glad we did. Fun wise, it didn't get better than this all week! Between the costumes, great friends, awesome bowling, and some very tasty Lagunitas beers...we simply had a blast! Some of us even talked about making this a monthly event because we all had such a good time! My favorite beer of the night was the Lagunitas Daytime Fractional IPA. This session IPA weighs in under 5% abv, but has the hoppy flavor of something much larger.
Please be a strike!

Saturday the 26th

--Brewzilla

Every year the entire craft beer community in Cleveland gets very excited for BREWzilla. This is the time where Cleveland can and should shine as a leader in the craft beer forefront. I'll keep this review short and to the point in list style.

The Good:
Both the Brewer's Circle and the General Admission food was good.
The band this year was much quieter, which was a welcomed change. The music they played was enjoyable for the event and the venue. We could actually be near them and still talk to each other. In years past, the bands were so loud you couldn't even communicate with the person next to you.
Actual Brewers were present to talk with the public and were very engaging. This is always a major plus at any beer event!
Having separate entrances for the Brewer's Circle and the General Admission was great. Lines were short, check in was quick and people were off to have fun.
$3 Parking at the Galleria really made it easy.
Ways to Improve:
Publish a complete brewery and beer list when tickets go on sale. People should know what is going to be offered if they are going to be spending any amount of money for an event. Ticket buyers will understand if a few beers have to be removed from the list because of certain brewery reasons. I talked with too many people at the event that felt cheated (their words) because the list posted on 10/10 said "More To Come." Yet, the final list for the Brewer's Circle was exactly the same and the General Admission list had only a handful of additions. This is an important improvement that I feel can be done, and has to be done.
I think a package deal should be offered when tickets go on sale. Ticket + Hotel + Parking all together for one discounted package deal. It would increase ticket sales initially, and make getting a hotel room less of a hassle since rooms sold out very quickly!
Beer Offerings: This year the Brewer's Circle was a letdown for me and many others. The rare and exclusive beers that you can't find around Cleveland just were not there. Most of the beers in that room can be found easily around Cleveland. Brewer's Circle is the ultimate time to showcase craft beer in Cleveland and to justify the $75 ticket cost. I felt like many of the unique tappings went to area bars during the week, instead of BREWzilla like in years past. Also, the Brewer's Circle should include the Collaboration Beers as a way to celebrate the accomplishment of our great local brewers.
I had fun this year at BREWzilla because of the great community of friends that showed up at the event. I literally couldn't turn a corner without seeing someone I knew! As a craft beer lover, I want to see this event grow. I want to see better beer offerings that would take BREWzilla to the level a GABF session. I don't think we are that far off considering we have great beer offerings that come into our state daily, and we have a collection of amazing local brewers. Yes, I do know this event is for charity. So here is an idea, we can give up the "free" t-shirt and/or some of the food offerings in exchange for the same ticket prices we get a better beer line-up.
What are your thoughts on BREWzilla? Please comment on here and let me know!
1. Did you attend BREWzilla?
2. What did think of the event?
3. How else would you improve the event?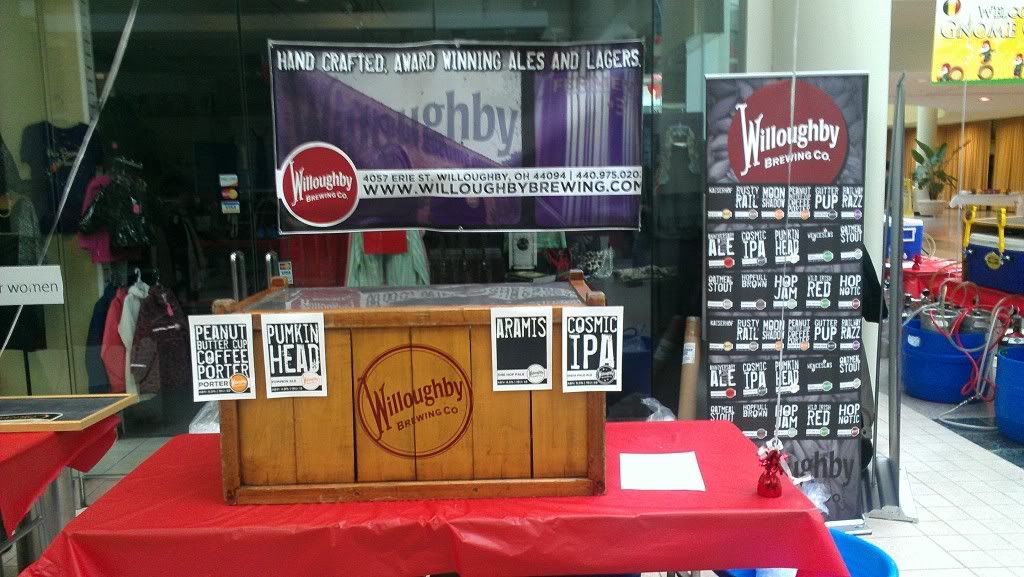 Wow...2012 Cleveland Beer Week came and went quickly. I had such a great time hanging out with old friends and meeting new ones. Cleveland Beer Week isn't about just one event. It is about going out and supporting craft beer with your friends. You shouldn't wait until Cleveland Beer Week next year to do that. Go out now and support our great local brewers! For more information on craft beer in Cleveland and to chat with other craft beer enthusiasts join our
Cleveland Craft Beer Community Facebook Page
. Also, you can follow me on twitter
@CleFoodandBrews
and on my
Facebook Page
. Cheers!!