With so many different Cleveland Beer Week options to choose from in 2012 it can be very hard to pick which events to go to. I'm going to try to make your life a little easier because I'm going to give you my opinion on what I think are the best of the best on a nightly basis. These are by no means the only events going on during the week, so if you want to check out the entire list of Cleveland Beer Week events,
just click here!
Chances are you'll see me attending one of the events listed below each night! (This list will be updated from now until Cleveland Beer Week is over!)
Updated 10/19/12
This is an easy one for me, the
Collaboration Crawls
are simply the place to be! Cleveland Beer Week's official opening ceremony, the Collaboration Kickoffs will feature 5 retail locations per neighborhood (East 4th, Lakewood, Tremont, Ohio City, Coventry) pouring collaboration beers specially brewed by NEO breweries for Cleveland Beer Week. These are small-batch brews and will not be bottled. Taste all brews here while you can; they will only be available in very limited supply elsewhere during CBW! Participating breweries are (1) Great Lakes and Cellar Rats: Wet-Hopped Pale Ale, (2) Market Garden , Rocky River Brewing and Indigo Imp: Tallboy, a wet-hopped brown ale, (3) Brew Kettle and Willoughby Brewing: Hoppy Hellesbock, (4) Buckeye Brewing, Ohio Brewing and Black Box: Nut Brown Ale with Maple Syrup, (5) Fat Heads and Chardon BrewWorks: Smoked Maple Imperial Bacon Stout, and (6) Thirsty Dog, Cornerstone Brewing, and LagerHeads: Belgian Style Dubble with Plums.
The Cleveland Craft Beer Community will be having our meet up at the Tremont location...more details on that to follow!
Saturday the 20th
10am to 2pm at Fat Heads Brewery and Saloon--Victory and Fat Heads's Brunch. Today, we pull the wraps off of the collaboration between Matt Cole of Fat Head's Brewery and Bill Covaleski of Victory Brewing Company! Come experience the result of two world class breweries ganging up and combining forces. A la Carte Brunch menu paired with a variety of Victory rarities, and the food is just as amazing as the beers!
12pm to 7pm at Lilly Handmade Chocolates--Bazinga! Come celebrate your love for Sheldon, Leonard, Howard & Raj along with your love of North Peak brews! We've created 4 special truffles that are inspired by the 4 main characters & paired them with 4 of North peak's beers! limited availability, first come, first served!) $18 per flight, limit one per person.
12pm to 5pm at Rozi's--17th Annual Beer and Wine Extravaganza Featuring over 60 Beers from around the world. We will have beers from North Coast Brewing out of Fort Bragg California and their brewery rep John Bisson. So come on out for a great Saturday afternoon! $25 admission covers food and beverage.
7pm to 10pm at Greenhouse Tavern--Victory Beer Dinner. Bill Covaleski, Owner of Victory Brewing Company, and Chef Jonathon Sawyer team up to pair award winning brews with award winning food. Come experience this amazing opportunity in person, you don't want to be the one hearing second hand about this! Very limited seats so be sure to grab them while you can. $65.00 per person.
9pm to close at Stampers--Bell's Jazz Night. Come by Stampers and enjoy live Jazz music while you try some exclusive beers from Bell's Jazz Series that features three interpretations on the French Biere de Garde style. Kegs will be tapped at 9:00pm. Le Batteur has a distinctive yeast aromatic character mixed with light bready notes that is noticably dry with crisp, mild refreshing acidity. Le Pianiste starts as a malt forward beer, combining biscuity, breadcrust notes with a light caramel flavor that is noticebly dry and finishes with a crisp, lively acidity. Le Contrebassiste blends roasted & lightly smoked malts, is fermented with a special French ale yeast which lends its own distinctive aromatic notes, and The Double Bass offers a deep, rich flavor.
Sunday the 21st
10am to 12pm at Beer Engine--Stout and Brunch. It's a tradition at BEER ENGINE. Breakfast food and breakfast stout. Walk in, no pre-sale. Special BEER ENGINE coffee mug, special bottles of aged Stouts. Some of the beers: Beer Engine Coffee Stout, Southern Tier Jahva Imperial Coffee Stout, Southern Tier Choklat, Southern Tier Crème Brulee Imperial Milk Stout, Founders Breakfast Stout, Brooklyn Chocolate Stout, Alltech Lexington Brewing Company Kentucky Bourbon Coffee Stout, Thirsty Dog Siberian Nights, Stone Russian Imperial Stout and a special BEER ENGINE Coffee Stout brewed by Mike Yingling. Some of the food: Steak and Eggs, Chocolate Chip Pancakes, spent grain French toast with orange syrup, oats and fruit. We'll have a special menu for this event. EXAMPLE: Pick two entrees get four samples and the BEER ENGINE coffee mug. The brunch will run until we sell out.
12pm to close at Lizardville Bedford--Cleveland Crusher Tapping. What is the Hoppin Frog Cleveland Crusher? Well Hop In and find out! Lizardville Miles Road will be tapping a keg of this special version of the legandary Boris the Crusher Stout brewed with all Belgian Chocolate Malt. This one is sure to be smooth and delicious.
12pm to 4:30pm at Tremont TapHouse--Cleveland Browns Watch Party with Victory. If you are a Browns fan, love craft beer, enjoy great atmosphere and amazing food, this is the event for you. Will the Browns get a Victory over the Colts? It's a guarantee YOU can, as Victory beer will be in the house and be pouring a few surprises. Come to Tremont Tap House and join Cameron Russell, Sales Rep for Victory, as he will have brewery related giveaways and be cheering on his beloved Browns in the hopes that they can pull off the win versus the Colts.
2pm to 4pm and 6pm to 8pm at Great Lakes Brewing--Culture Yourself. The Premier Beer and Cheese Tasting. Join us for a night of obsessive beer and cheese pairings, featuring brews from 12 top breweries and over 30 artisanal, locally produced cheeses.
2pm to 4pm at Rozi's--Goose Island Tap Takeover. Goose Island Brewer Patrick Reisch will be on hand to talk consumers through the special brews. Special beer guests include (all draft) Matilda, Sofie, Pere Jacques, Fleur, Lolita, Juliet, Madame Rose and Big John. Tickets are only $20 and will include chef-prepared food as well.
Monday the 22nd
5pm to 10pm at Deagan's Kitchen--3Floyds Prix Fixe Menu. Stop in for dinner and enjoy a prix fixe menu paired with some of the most sought after beers in the area, 3 Floyds! We will be pouring three of their beers; Moloko Stout, Artic Panzer Wolf, and Robert The Bruce!
5pm to 10pm at SOHO--SOHO, Momocho, and Goose Island Prix Fixe Beer Dinner. Soho and Momocho of Ohio City are teaming up with Goose Island Beer Company for a pre-fix beer dinner/tasting menu for Monday night of beer week! Chefs from both restaurants will be teaming up to create a latin themed menu to entice your taste buds. Goose Island Beer Company special beer guest for this event is Marisol, a Chicago exclusive beer coming in just for beer week.
5pm to close at Southside--Dogfish Night. We are pouring a mother load of Dogfish Head speciality drafts. All year long this event is fermented in the Southside cellars. Vintage aged kegs of Burton Baton, Paulo Santo, Sahtea, Black and Blue, Red and White, Bitches Brew and more will be on tap. Also look for a keg of the highly sought after Punkin, and the ever popular house-poured 75 minute blend of 60 and 90 minute IPA.
5pm to close at area B-Spot's--Founders Breakfast for Dinner. Join Founder's at B Spot and kickoff Stout Season with a Founder's Breakfast Stout! This double chocolate, double Coffee Oatmeal Stout is reason to stop out, but if that isn't enough we are also tapping a keg of Founder's Harvest Ale! Harvest Ale is an extremely limited wet hop beer that is sure to please the hop heads out there.
6pm to close at Willoughby Brewing--Oskar Blues Tapping. Dale's Pale Ale, Deviant Dales DIPA, Ten Fidy Imperial Stout, G'Knight Imperial Red, Old Chub Scotch Ale, Mama's Little Yella Pils and a special FIRKIN!!
7pm to 9pm at Willoughby Brewing--Beer Sensory Evaluation Class. Join BJCP National Beer Judge Paul Shick and BJCP Certified Beer Judge and Certified Cicerone Rick Seibt for an evening of beer sensory evaluation. You'll learn the basic concepts of beer evaluation, how to properly evaluate beer for it's elemental flavors as well as how to detect simple off flavors. This course is a must for anyone who regularly evaluates beer, for the homebrewer looking to make better beer, and for prospective beer judge candidates. What you'll learn: (1) proper environment, equipment and presentation of beers to be evaluated; (2) basic tasting technique; (3) flavor detection; (4) off-flavor detection including: diacetyl, isoamyl acetate, DMS, acetaldehyde, trans-2-nonel, infection. Who would benefit from attending: anyone interested in refining their beer evaluation techniques and candidates interested in taking Beer Judge Certification and/or Cicerone exams You must be 21 years of age or older to attend.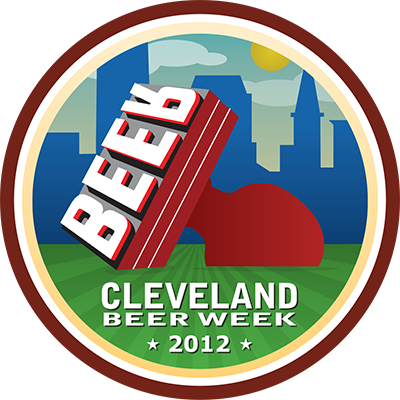 Tuesday the 23rd
5pm to close at City Tap--Bell's Black Note and Golden Rye tapping. Greg Pilch will be in town from Bell's Brewery to answer all your questions. Come out for Happy hour and try a vast array of Bell's beers including Two Hearted Ale, Amber Ale and Oarsman Ale. We will be tapping one of the last Oberon Kegs of the year as Baseball Season closes out. We will also be tapping two very special beers: Bell's Golden Rye Tapped at 5:00pm and Black Note Tapped at 6:00pm.
6pm to 9:30pm at Brew Kettle--New Holland Beer Dinner. A special 5 course dinner paired with offerings from New Holland and The Brew Kettle. The menu will include Chef Ryans famous Gumbo. But, this time we will be changing it up to include Key West Pink Shrimp, Duck and New Orleans Andouille. Chef Charlie will be presenting a spinach salad with toasted pecans, crumbled goat cheese and a vinegrette of roasted beets. A venison stew with pumpkin flan. Sweet potato fettucini with smoked trout and oyster mushrooms topped with a light maple cream sauce. And a Chocolate Molten cake for dessert. We will also have some cocktails on hand from New Hollands distillery including a chance to taste the rare Hopquila! Tickets are $45.
6pm to close at Willoughby Brewing--Cask Night. The 2nd annual Cask Night at Willoughby Brewing Company will feature multiple cask tappings from our cellar with special pricing and some surprise one-time beers.
6:30 to 9:30pm at Greenhouse Tavern--Heavy Metal Dinner featuring Left Hand and 3Floyds, beers to include Gorch Fock, Zombie Dust, Fade to Black, Barrel Aged Wake Up Dead.
Wednesday the 24th
11am to close at Winking Lizard Bedford--Ohio Brewery Bash. Find out what's brewing at some of Ohio's breweries. We'll have 7 of them represented on tap while they last: GLBC Nosferatu, Brew Kettle Black Rajah, Thirsty Dog Barktoberfest, Columbus Brewing IPA, Cellar Rats POC Pilsner, Buckeye Hippie IPA, and Fat Head's Sorcerer.
4pm to 6pm at Lizardville Bedford--Green Flash Night. It's a Green Flash Draft Night and Meet & Greet! Stop in and enjoy a Green Flash/St. Feuillien collaboration Friendship Brew and more as we fill the taps with Green Flash drafts. Come by, meet the crew, and find out what's happening at the Green Flash brewery!
4pm to close at Tremond Tap House--Columbus Brewing Night. Join us as we tap: Sohio Stout, an American stout brewed with locally roasted coffee beans, a cask of dry hopped Bodhi and a cask of habenero Bodhi. Be there when we open for these limited available brews!
5pm to 7pm at Winking Lizard Independence--Troegs Scratch and Splinter. We did this event in 2010 and it's back in 2012! A special tapping of beers from Troegs Scratch Series, the small experimental batches of beer where they work with non-traditional ingredients and new brewing techniques. Usually only available at the Troegs tasting room Scratch Fresh Hop Ale and Scratch Fest Beer on will be on tap and we'll have a very limited amount of Splinter Black (Russian Imperial Stout aged in oak barrels) bottles available. Our friend Mike Watters from Troegs Brewery returns to Scratch and Splinter the Lizard!
6pm to 9:30pm at Crop Bistro--Ommegang Beer Dinner. Crop Bistro Welcomes Mathew Rhode of Brewery Ommegang. Please Join Us for a 6-Course Dinner Paired with Signature and Limited Release Beers from Ommegang Brewery! Welcome reception at 6 pm followed by dinner at 6:30. $50/person, includes dinner and take-home glassware! For reservations, call 216-696-2767.
7pm to 9pm at Deagan's Kitchen--Founders Brewing Beer Dinner. Great food paired with great beer is an understatement. Come check out what Founders and Deagan's can do. Beer List: Centennial, Red's Rye, Dirty Bastard, Backwoods Bastard, Breakfast Stout, KBS! Plus bottles of Frangelic Mt. Brown and Curmudgeons Better Half for sale at the bar.
8:15pm to close at Edison's Pub--Bell's Black Note Tapping.
5pm to 8pm at Crop Bistro--Fat Head's Happy Hour. Come and visit Brian Kelley from Fat Heads Brewery for a tasting of Fat Heads beers. $5 Flights will be available for tasting the stellar lineup that includes the untamed Headhunter IPA, friendly Bumbleberrry Blue Berry Wheat, elusive Spooky Tooth Pumpkin Ale, and two other secret beverages. Special $3 happy hour prices on bottles and drafts untill 8pm. Happy hour Get Cropped food goes till 7pm.
6pm to 9pm at Fat Head's--Stone and Fat Head's Beer Dinner. Aperitif: Starlight Lager, Fat Head's Brewery and Saloon. First Bite: Scallop, Veal Sweetbreads, Fried Grits, Bacon Creamed Corn Enjoy By IPA, Stone Brewing Company. Second Course: Pumpkin Bisque, OCP Pumpkin sage Gnocchi, Duck Confit, Crème Fraiche . Spooky Tooth Imperial Pumpkin Ale, Fat Head's Brewery and Saloon. Third Course: Frisee Salad, Apples, Walnuts, Prosciutto, Whole Grain Vinaigrette. Cali Belgique, Stone Brewing Company. Fourth Course: Roasted Venison Tenderloin, Sweet Potato Risotto, Smoked Mushroom Strudel, Fig Demi Glace. Oaked Arrogant Bastard.Cheese Course: Blue Cheese and Cherry Tart Balsamic reduction Old Guardian Barley wine Stone Brewing Company. Dessert "SMORES" Imperial Stout, Stone Brewing Company. Digestif: Vintage Vertical Epic 10-10-10, Stone Brewing Company. $60 Per Person Plus Tax Gratuity is included.
7pm to close at Deagan's Kitchen--Columbus Brewing Night. Join us starting at 7 pm as we tap and enjoy these excellent beers from one of Ohio's best breweries: Bodhi, Fresh Hop IPA, Sohio Stout and Barrel Aged Uncle Rusty. Come Early there, will be some collectible glassware in limited supply!
Friday the 26th
3pm to close at Lizardville Bedford--Fat Head's Night. We're featuring Fat Head's Brewery on tap starting at 3pm! The draft list is being lined up, check back soon for what's on tap! Meet Brian Kelley from Fat Head's Brewery at 6pm!
3pm to close at Lizardville Rocky River--Mythical Creature Night! There's been a yeti spotting in Rocky River and it's brought friends along with it! Join us for a Mythical Creature-named draft night. On tap will be: Great Divide Oak Aged Yeti Espresso, Great Divide Oak Aged Yeti Chocolate, New Holland Dragon's Milk, Sierra Nevada Bigfoot, La Chouffe and Thirsty Dog Cerberus.
4pm to close at Tremont TapHouse--3Floyds Prix Fixe Dinner. Available all night until it's gone! Come enjoy a 5 course dinner paired along with special releases from 3 Floyds Brewery.
6pm to 9pm at Rozi's--Troegs Tap Takeover. Come visit Mike Watters of Troegs Brewing as we will be pouring 7 different Troegs beers. There will be a couple "Scratch Beers" on tap, Flying Mouflan and other tasty beer. There might even be a surprise or two. Addmission is $15.
6:30pm to 9:30pm--Ales on Rails. FLAGSHIP CBW EVENT! Heidelberg Distributing hosts this delightful ride on the Cuyahoga Valley Scenic Railroad that includes a scrumptious boxed supper courtesy of Winking Lizard and 7 delicious craft brews TBA. Advance tickets are required and range from $45-$80 depending on car selection.
Saturday the 27th
Need I say more than
BREWzilla
? From 6-10pm Cleveland Beer Week concludes with this monster celebration featuring more than 80 breweries, a special "Ohio Brewery" area with various beers from local breweries, and tasty appetizers that pair well with craft brews. Brewer's Circle tickets are $75 and include tastes of rare/exclusive brews and Heinen's food pairings in the Brewer's Circle Lounge open all evening, 3 oz. tasting glass, 25 tasting tickets, a commemorative t-shirt, and access to all General Admission beers/food. General Admission tickets are $50 and include 3 oz. tasting glass, 25 tasting tickets, and complimentary food by Winking Lizard Tavern. For more information on the beers at Brewzilla watch for my
Guide to Brewzilla
coming soon!!
In addition to everything I listed, your local Heinen's and select Giant Eagles will be having small events on a nightly basis during Cleveland Beer Week. Check the Cleveland Beer Week
website
or your local store for more details on these events.
Finally, I'll be updating this list with new events or changes to events from now until Cleveland Beer Week is over. Be safe, drink responsibly, and most of all, have fun! Cheers!
Updated 10/10/12
If you have any questions about beers or events during Cleveland Beer Week I'd be happy answer them.
Contact Me at: