Cleveland Beer Week continued Wednesday the 19th through Saturday the 22nd which means my journey around Cleveland continued! Here is Part 2 of my Cleveland Beer Week 2011 Recap!
Wednesday took me to Lolita for the Dogfish Head Happy Hour. I bought tickets for this event very early on because I saw a few beers must have beers: Bitches Brew and Hell Hound! I expected Lolita would produce some amazing food, but I was curious as to how they would pair them up with the brews. Upon entering, I was kindly greeted and handed a glass of 60min IPA. I love how this IPA is so easy to drink with its well balanced hop and malt profile. After all of the guests arrived dinner began with course one!
Course 1
Rabbit Gnocchi with spaghetti squash, roasted chestnuts, sage brown butter, and fresh green apple. It was paired with Dogfish Head Punkin Ale.
This dish totally blew me away with rich and hearty flavors. The richness from the chestnuts paired amazingly well with the earthiness from the rabbit. The fresh gnocchi added a softer texture to the dish which was contrasted by the crunch from the green apple slices. The green apple slices also played a key role of adding just a touch of sourness to the plate. The dish was finished off with freshly ground nutmeg. This was, hands down, one of the best dishes I've eaten and I am hoping they are adding this to the fall menu. What made this dish even better was the perfect pairing of the nutmeg and cinnamon flavors found in the Punkin Ale.
Course 2
Eye of Round that was aged 5 weeks, Lamb Terrine wrapped with pancetta, pickled cherries and vegetables, with shaved parmesan. Paired with Dogfish Head HellHound on my Ale.
The eye of round was tender and flavorful and paired well with the saltiness from the capers that were in the lamb terrine. I thought the terrine also had a good balance of salt and spiciness from the green peppercorns. This dish was complemented nicely by the bold hoppiness from the Hellhound. This beer really is a work of art and I can't wait to pick up a few more bottles of it when it gets released again in the next few weeks.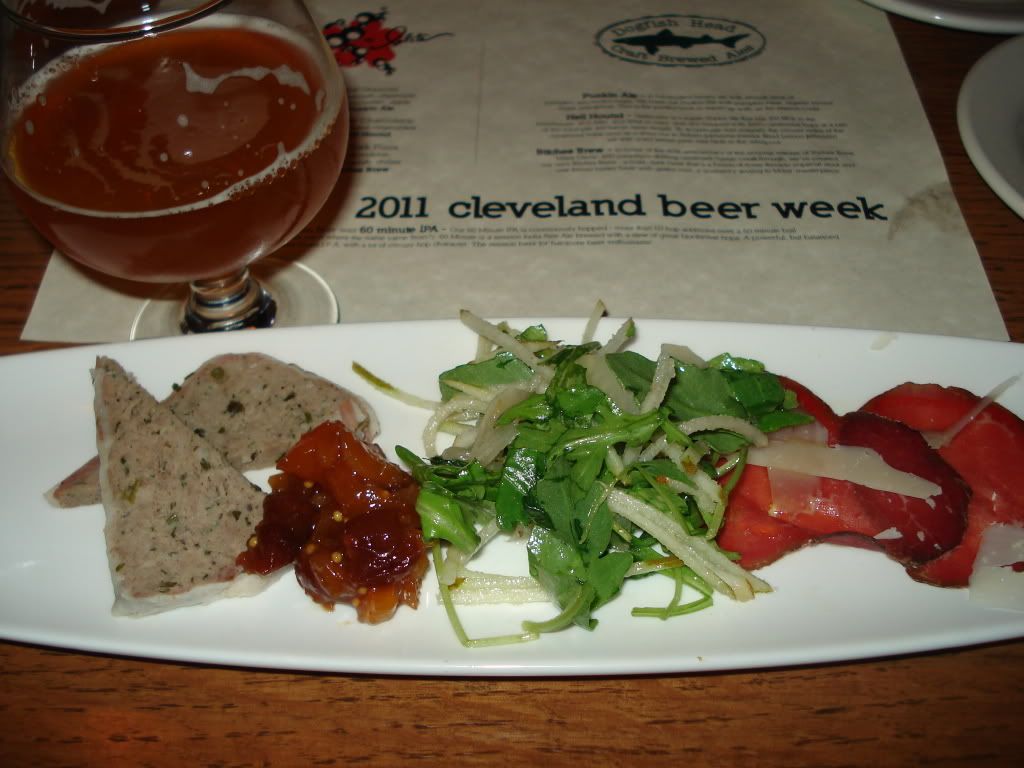 Course 3
Our final dish was a Roasted Pork Pizza with smoked provolone, butternut squash, and chilies. This was paired with Dogfish Head Miles Davis Bitches Brew.
Chef James told us this was his take on a BBQ pizza. I have to say I like the way he thinks! This pizza was simply amazing. The crust was cooked perfectly which in my pizza book is a must. The pork was as tender as can be and packed with smoky flavor which was only complemented more by the smoked provolone. The butternut squash, which I never imagined on a pizza, was probably my favorite part! Finally, the chilies added just enough heat without going overboard. This is another item I hope to see on the menu. The Bitches Brew was about a year old by now and was tasting amazingly smooth. The alcohol that was more prevalent in fresh batches was subsided. The rich chocolate and coffee flavors really shined through.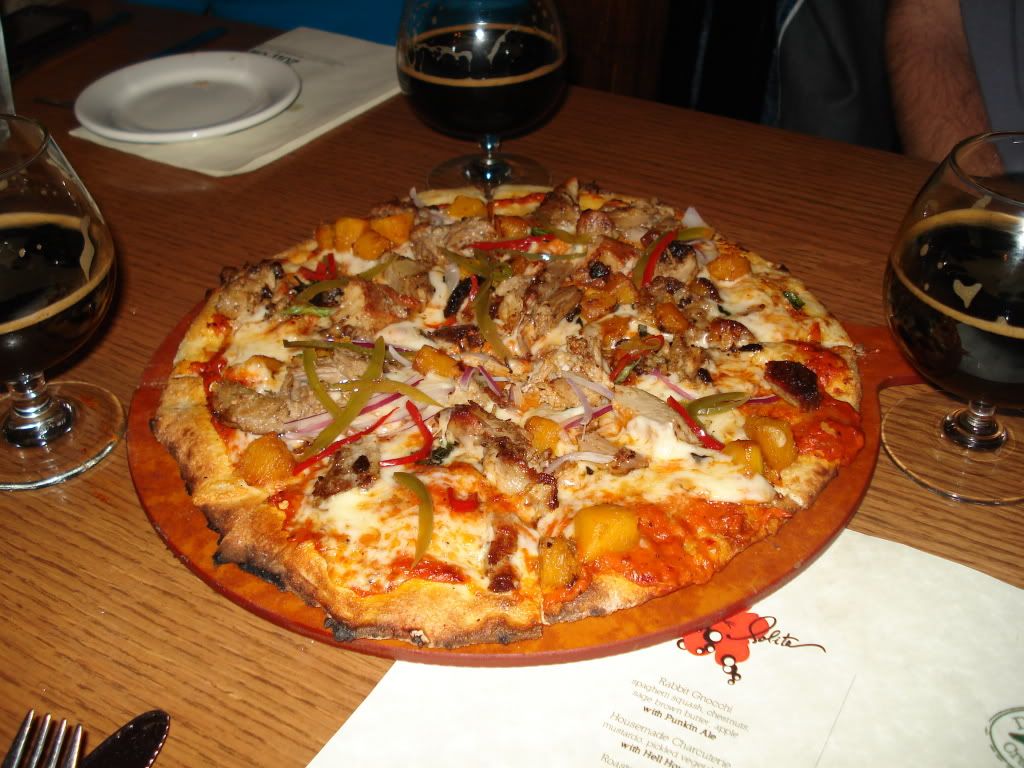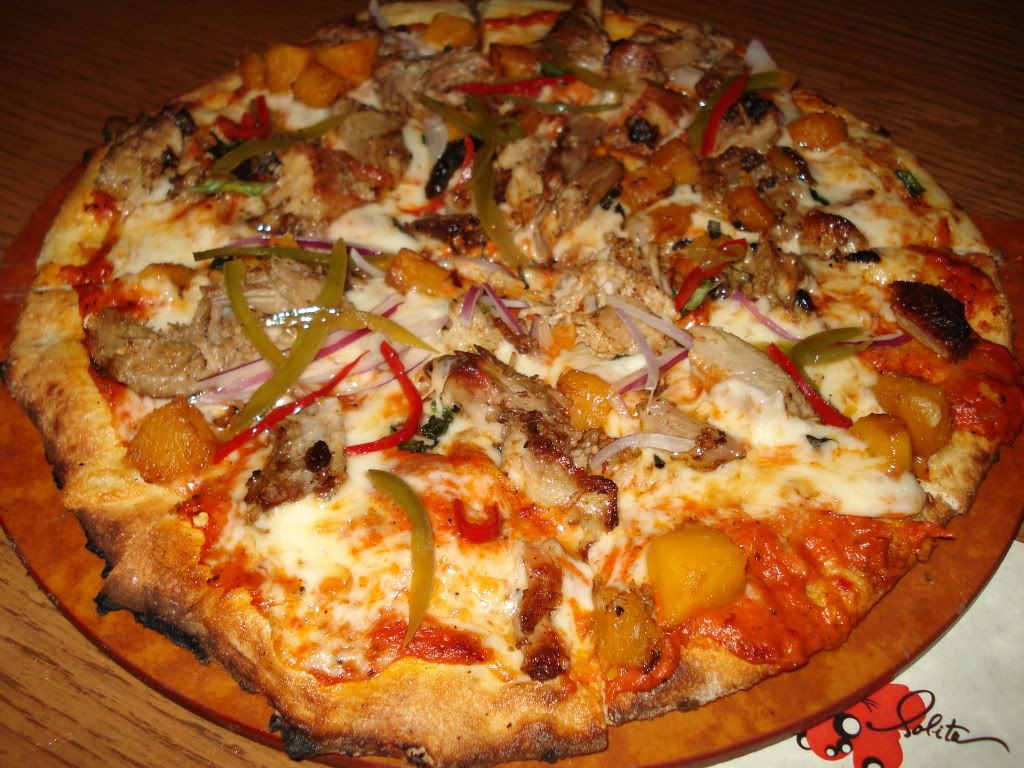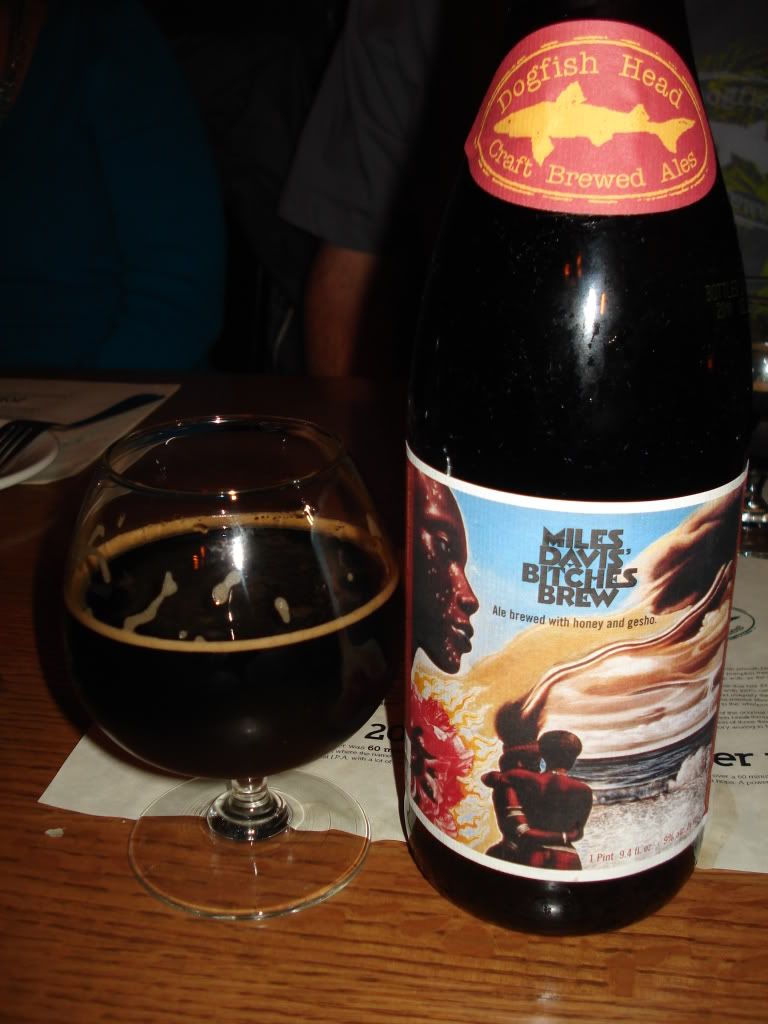 I left this event with a smile on my face. The food was stunning and the beers were just as good. This was yet another very successful Cleveland Beer Week event! Here are a few more pictures from the event.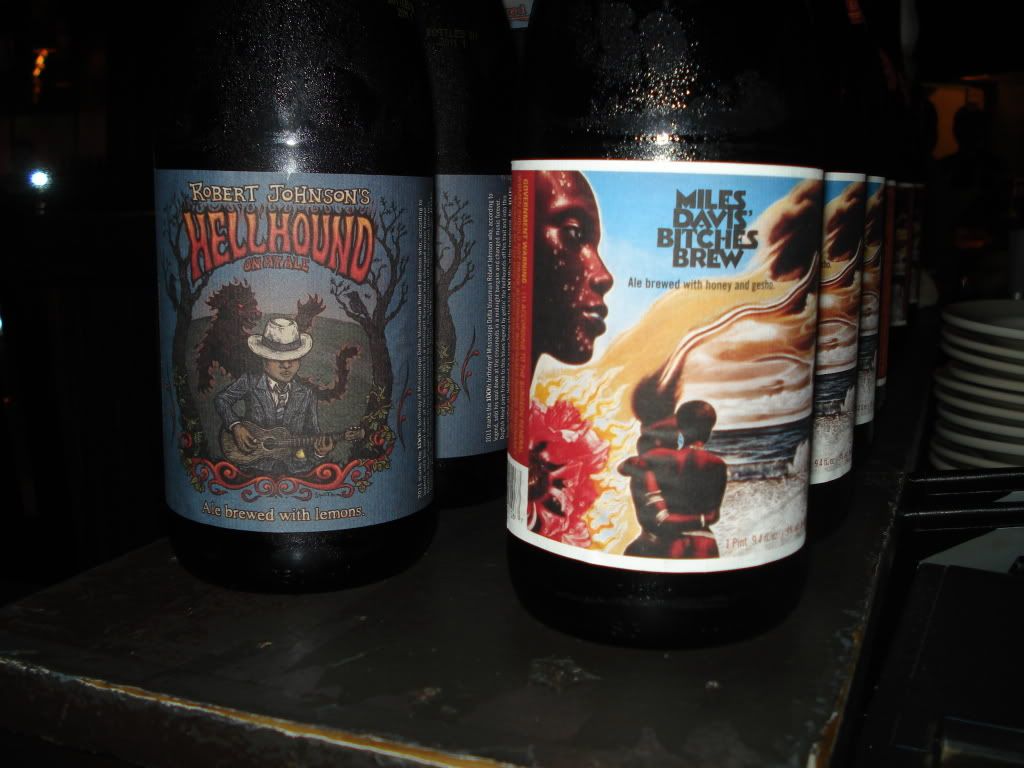 I left Lolita and headed for Lizardville. I had to have at least one glass of the Special 2008 Bourbon Barrel Aged Stone Imperial Russian Stout! All I can say is that I preferred it to Barrel Aged Blackout Stout which is one of my all time favorites!
Our night started out by attending the Culture Yourself, beer and cheese event, at Market Garden Brewery. We were both very excited for this event because we love the fermented cheese and beer pairing concept!
Here are the positives for the evening:
There were many brewers in attendance which is always pleases the crowd. Beer lovers always welcome a chance to pick the minds of brewers.
The cheeses I sampled were outstanding and the beers offered paired well with the cheese.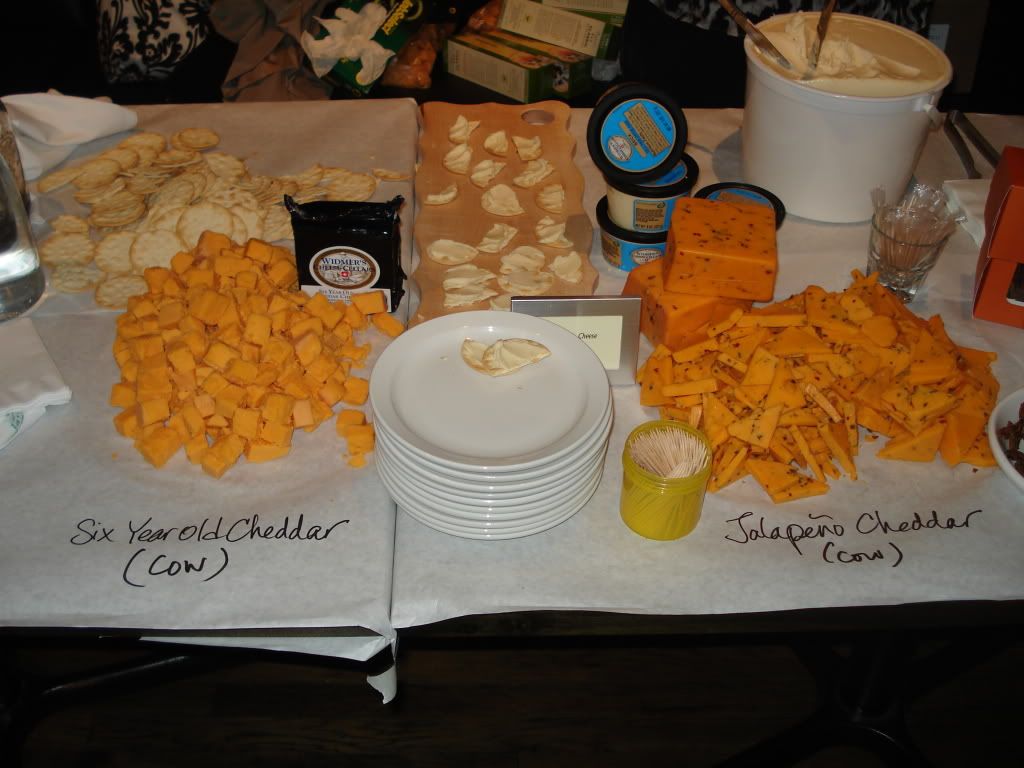 Here are areas where the event could have been improved:
There were too many people in the space provided. The picture I took should explain just how packed it was. The picture was taken at 7:06pm.
Brewers were directing us to other tables for cheese and the cheese folks were directing us to other tables for beer pairings. This was nearly impossible to do because of the number of people packed into the space. I wish the pairings at each table were more directly connected.
There was no place to stand while eating and drinking. Holding my drink with one hand and holding my plate with the other left my zero hands to actually eat with. There was no space for tables, but at an event like this I feel like there has to be some free standing round tables for people to walk up to.
I love the concept of this event and I hope that next year the kinks are worked out so this event will be more successful.
After leaving Market Garden, we made our way to Mike's Bar and Grill in Berea. We picked Mike's as our destination because of the very special beers they were going to have for the evening. At 9:00 Founders Devil Dancer, Curmudgeon, and Kentucky Breakfast Stout (KBS) would be tapped. This line up alone was reason enough to go to Mike's! Devil Dancer is a hop monster that is sure to destroy most palates in a single glass. Curmudgeon is an Old Ale. This aged version smoothed out so much that I could hardly taste the vanilla I remembered so strongly from the fresh batch. Finally, KBS is one of those Bourbon Barrel Aged stouts that everyone waits for every year, and we can't get enough of.
Everest Curley of Premium Beverage
John Host of Founders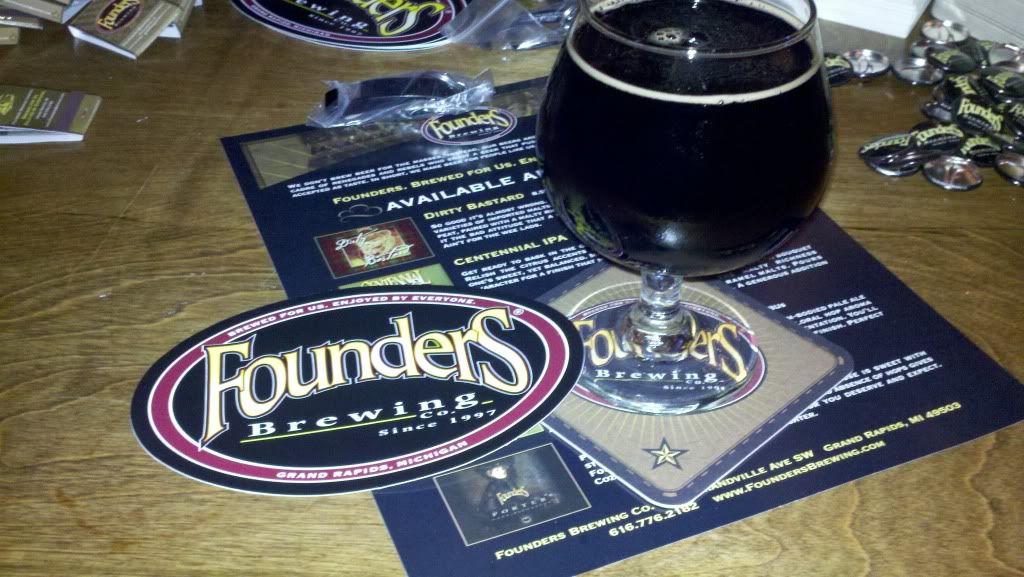 KBS
Now if KBS, Devil Dancer and Curmudgeon were not enough, at 10:00 they broke out the Bret "The Hitman" Hart tap handle! What a fitting handle for pouring this beer.
The Best there IS, the Best there WAS, and the Best there ever will BE!
From this handle they would be pouring CBS, Canadian Breakfast Stout! This was the star of the show, and the reason the line quickly grew to almost out the door!
Dave Engbers of Founders pouring CBS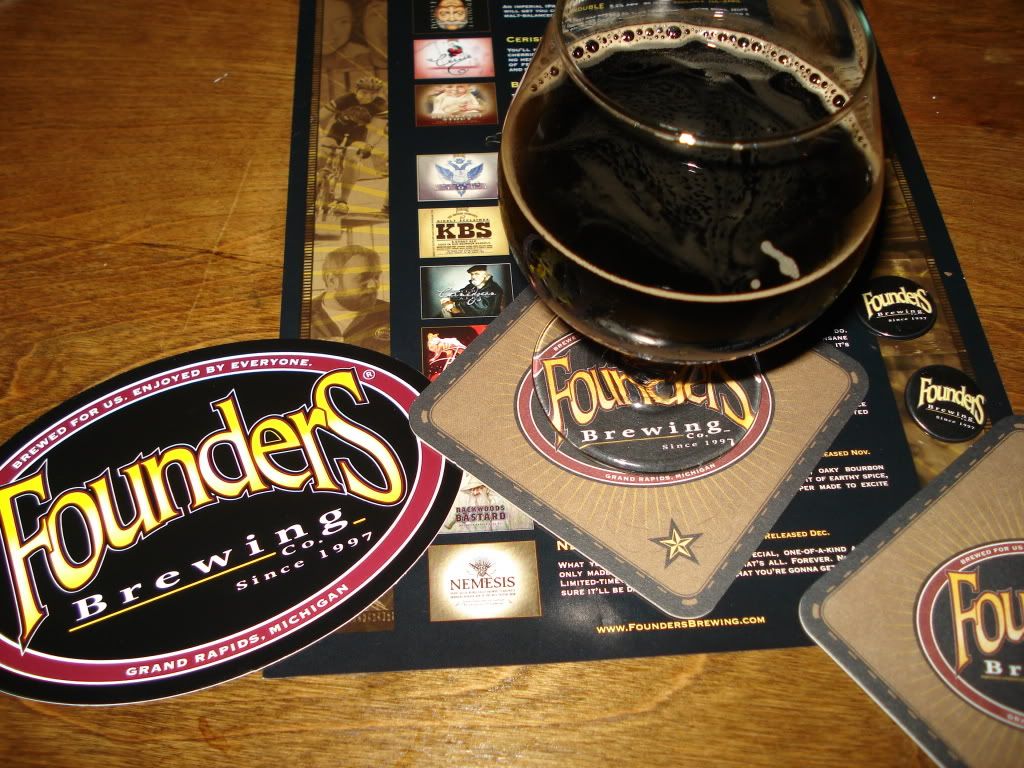 I was totally thrilled to get my hands on a few glasses of this extremely limited, and very tasty, Canadian Breakfast Stout. What made this night even better was that the place was packed with friends and Cleveland Craft Beer Community Members!
On Friday, my fiancee and I attended the Ales on Rails event. I didn't get a chance to take many pictures because we arrived just as the train was leaving. Shortly after departure, it became dark outside so taking pictures of our view wasn't possible. We had an excellent car of people who we got to enjoy our beers with and engage in conversation. Our tickets were for the Dome car but the only seats in that car that had an open view of the sky were about a dozen seats in the upstairs part of the car. Of course by the time we got there, they were all filled. We were served a very tasty turkey and avocado sandwich for our dinner. After we ate we were served samples of seven different brews.
Lagerheads Barnburner Lager
Ayinger Brau-Weiss
Charles Wells Bombardier
Brooklyn Monster Ale (2010)
Victory Golden Monkey
Anderson Valley Oatmeal Stout
Thirsty Dog Siberian Night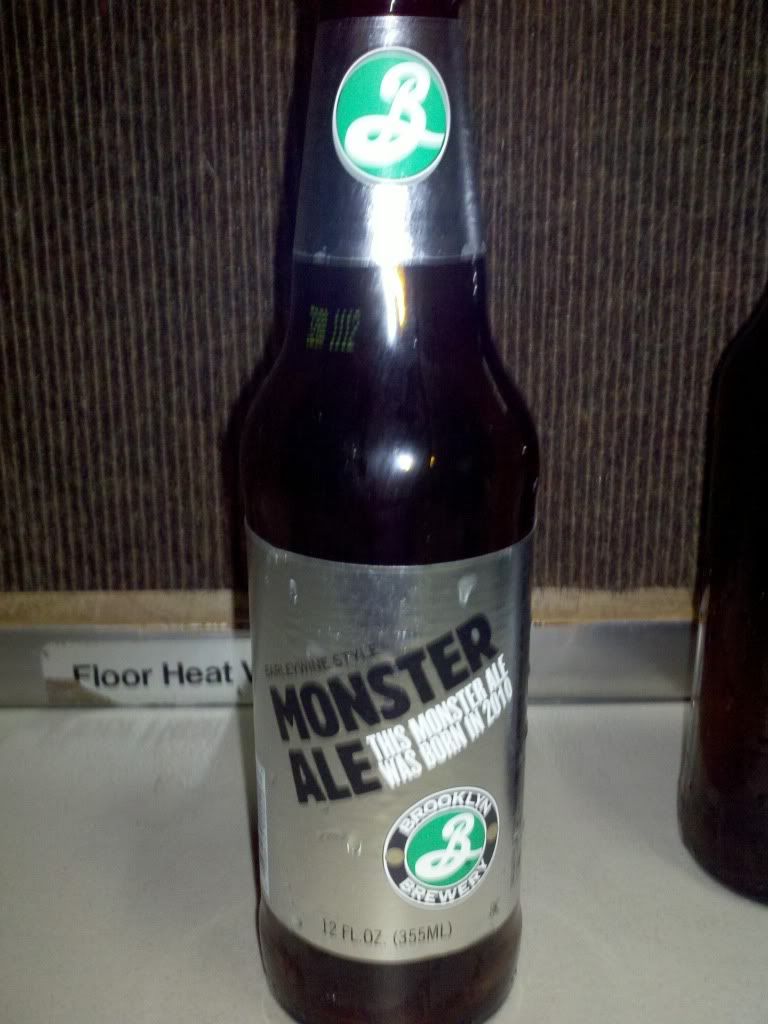 We had a great time on the 3 hour train ride down to Akron and then back. We both wished it would have been light out so we could have seen the beautiful scenery along the way. Maybe next year they can get the ride started around 5:30pm which would give at least an hour of daylight before it gets dark.
Saturday the 22nd
Everyone knows the last day of Cleveland Beer Week is both a sad and happy time. We were all sad because we just wish the events could keep on rolling. We were all happy though that BREWzilla was upon us! Upon arrival at the event we had a little trouble actually getting in the door. With a little help from some friends the large crowd outside had a chance to go and get in line. When the clock struck 6:00pm both general admission and brewer's circle lines were allowed to begin to check in. Unfortunately for the people who had brewer's circle tickets, the expedited entry just didn't happen. The general admission line was actually moving faster than the brewer's circle line. Anyways, everyone was happy once we were in and off we went to start sampling some amazing beers.
My favorite beers of the night were the Sierra Nevada Barrel Aged Fritz and Ken, Epic Big Bad Baptist, Great Lakes Barrel Aged Blackout Stout, Willoughby Brewing Aramis Pale Ale, Hoppin' Frog Cafe Boris and Doris, Rivertown Lambic and the Southern Tier I-90 Pale Ale.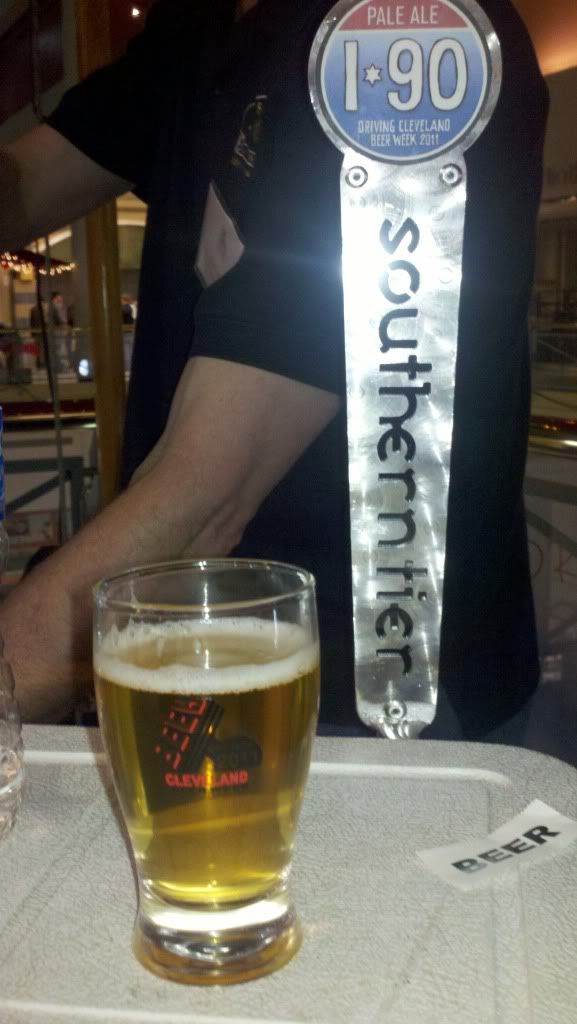 In addition to these favorites, we were also surprised by a special appearance of a fresh case of Dogfish Head Bitches Brew!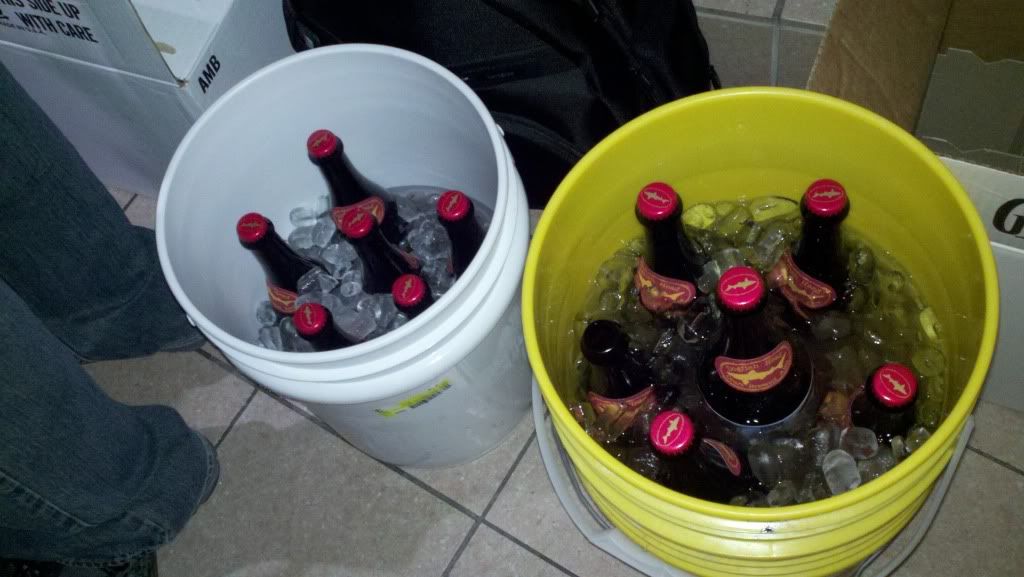 Besides all of the beer, there was excellent food inside the brewer's circle and for the general admission folks. I was impressed how quickly and easily we could get food this year compared to last year. An improvement for sure! So what else makes BREWzilla great??? It is the people that attend the event. I had a blast hanging out with all kinds of craft beer community members the entire night. We even got to hang out with an Untappd legend!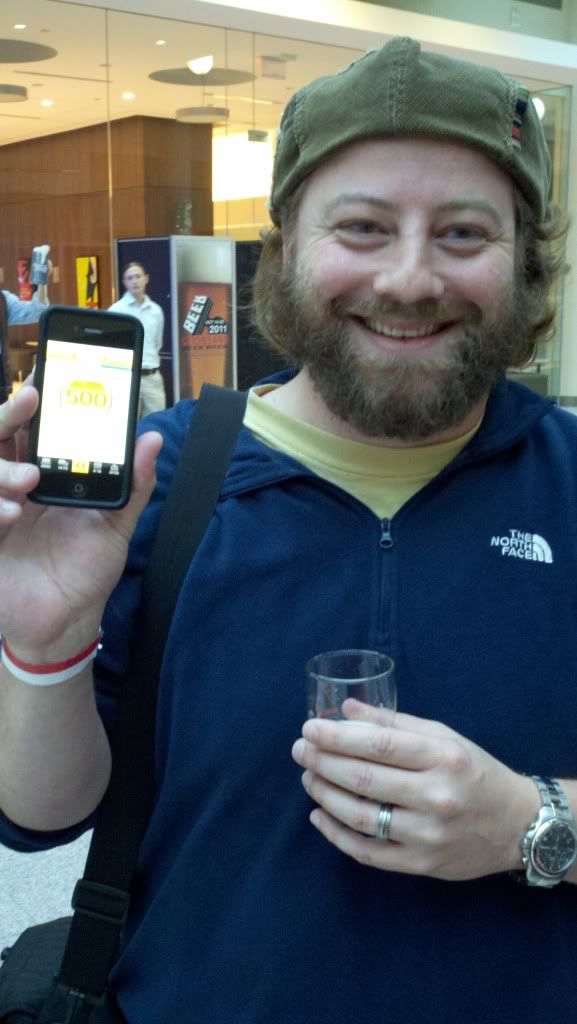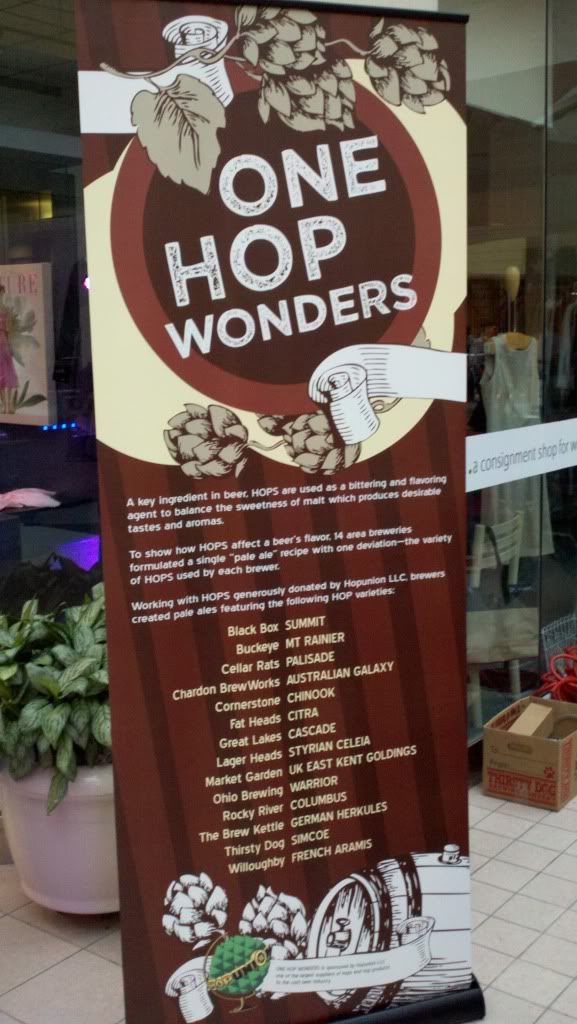 As great as the night was, a few parts could have been better. The first was the volume level of the music. It was hands down just too loud and made talking with friends right next to you almost impossible.
For me the biggest disappointment of the evening was The One Hop Wonders. The One Hop Wonders idea was brilliant. Each brewer picked out of a hat and made a pale ale using the hop they picked out. To me this could have very easily been a feature event! Unfortunately at BREWzilla, this table just didn't work. The beer was pouring too warm and all foam. There were also only two people at the table trying to pour 16 different beers. The logistics just didn't work. Every time I walked by the table it looked like what you see in the picture below. I actually took 4 pictures at different times throughout the evening that all looked like this. Next year I hope to see the One Hop Wonders back, but as a featured event. I would love to have the brewers come out and talk about each of their beers. 16 brewers, 16 beers and 16 different hops!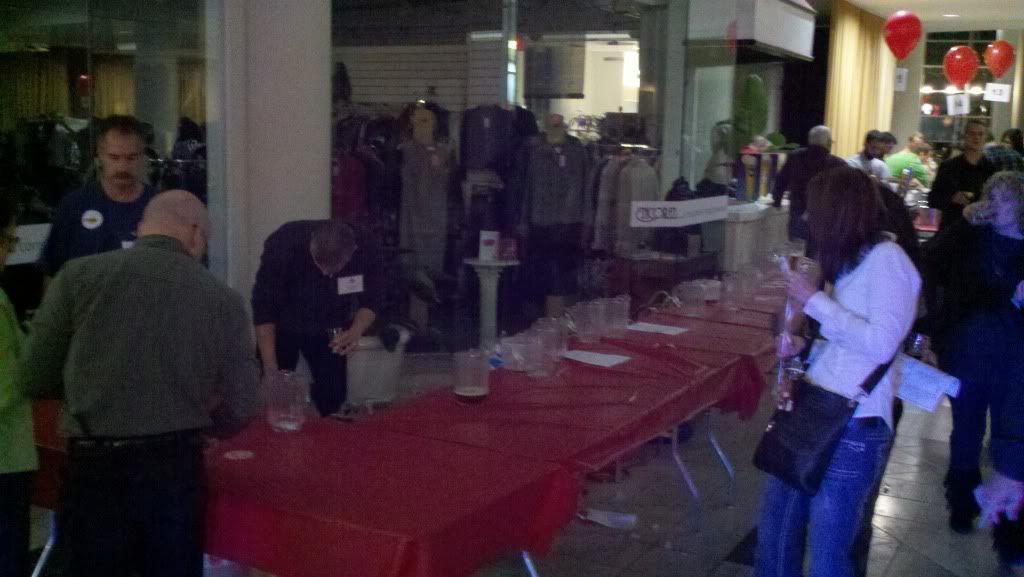 To think that Cleveland Beer Week 2011 is now over is crazy. I had an amazing week of beer and hanging with friends every single night. I think this final picture sums up just how great Cleveland's Craft Beer Community is. This picture was taken at our 8pm meet up at BREWzilla.
I hope to see you out and about during Cleveland Beer Week next year! Cheers!