Here is what the Brewer says:
The coffee lover's consummate beer. Brewed with an abundance of flaked oats, bitter and imported chocolates, and Sumatra and Kona coffee, this stout has an intense fresh roasted java nose topped with a frothy, cinnamon-colored head that goes forever. 8.3% 60IBU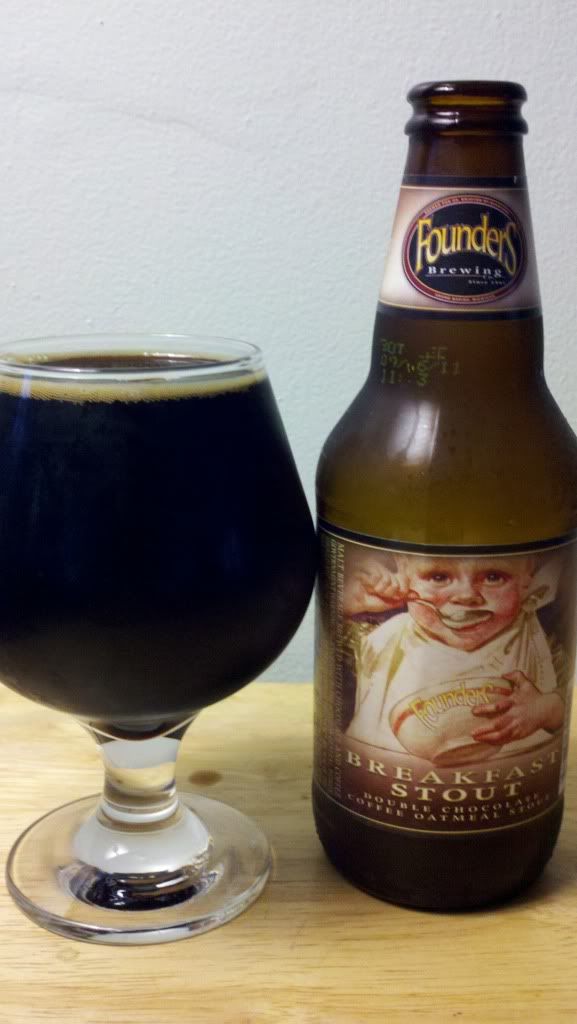 Appearance: This brew pours black as coal with a minor tan head after a somewhat vigorous pour out of the bottle. After that settles you are left with a bit of tan colored bubbles around the rim which provides a fair amount of lacing throughout.
Smell: The aroma of this beer is coffee, then coffee, and then some more coffee. The rich roasted coffee clearly dominates the smell, but there are still hints of dark roasted malt and dark chocolate. There is also just a faint hint of the ABV lurking in this brew. This beer literally is a coffee lovers dream come true in terms of scent!
Taste: Everything about the taste is dark and rich. The robust coffee and dark chocolate shine through and balance each other wonderfully. The bitterness from the coffee plays so well with the sweet bold chocolate that this beer is nearly impossible to set down because it tastes so good. To make thing even better some hoppy bitterness creeps in the end and leaves you with a wonderful aftertaste. The ABV that I detected in the nose never really shows itself in the flavor. I love the fact that this beer tastes how it looks and smells...Silky, Dark and Wonderful!
Mouthfeel: This is a rich full bodied beer that combines a fair amount of carbonation with a smooth body. This in turn creates nearly a perfect mouthfeel from first sip to last. To me this is exactly how a stout should feel on your palate.
Drinkability: Fall and Winter nights were simply made for Breakfast Stout. The warming sensation this stout provides while drinking is close to perfect. I could easily see myself drinking these all day/night while kicking back and watching some football with friends! Once again Founders has done it again and produced a simply fantastic beer!
Serving Type: 12oz bottle
My Rating: Overall 98.7/100
Look:4.9 | Smell:5 | Taste:4.9 | MouthFeel:5 | Drinkability:4.9