Last night my fiancée and I attended session one of the International Beer Fest at the I-X Center. Check-in was a breeze and before we knew it we were walking around just taking everything in. The set up of the event was excellent. Large banners hung from the ceiling made finding your favorite beers very easy. We also were very pleased with the spacing of the event, but were curious how everything would go as the crowd arrived!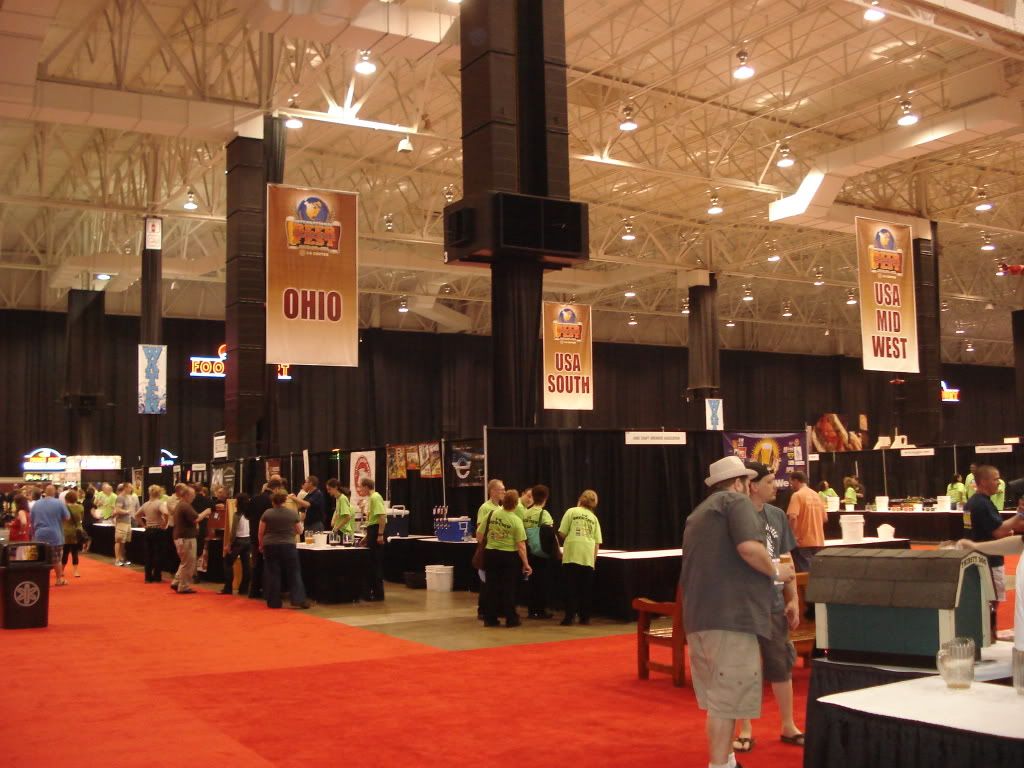 After sampling a few beers we decided to stop at the Real Ale Bar to see what they had on cask! While there we ran into our friends
Brewer's Daughter
and
Journeyman Cook
. This area featured some great beers on cask. One that I really enjoyed was the Thirsty Dog Imperial Black IPA. I wish we would have spent more time here, but with so much to see we moved on to check out the VIP Brewers Lounge.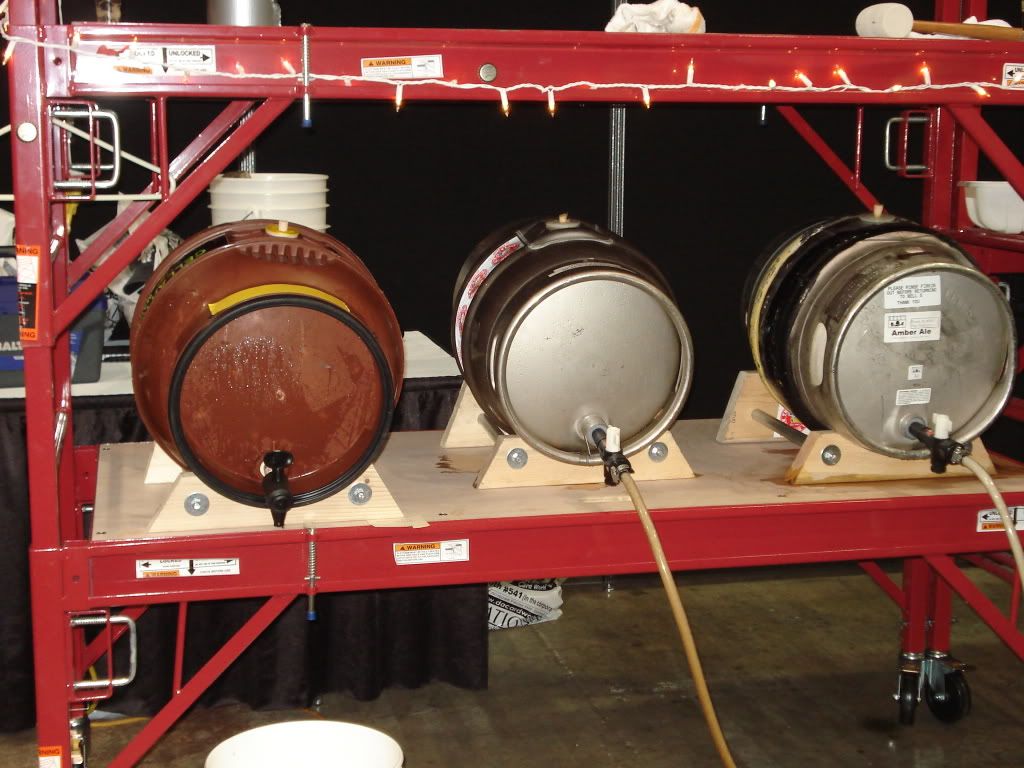 Inside the VIP Brewers Lounge they had an assortment of snacks and lots of comfortable chairs to relax in if you wanted to. They also offered some brews that you couldn't get on the main floor. A few examples were Sam Adams Oak Aged Porter, Goose Island NightStalker, Willoughby Brewing Hopnotic, and at least 15 other brews. With so much beer on the main floor we had a few samples and decided to head back out to catch a demonstration.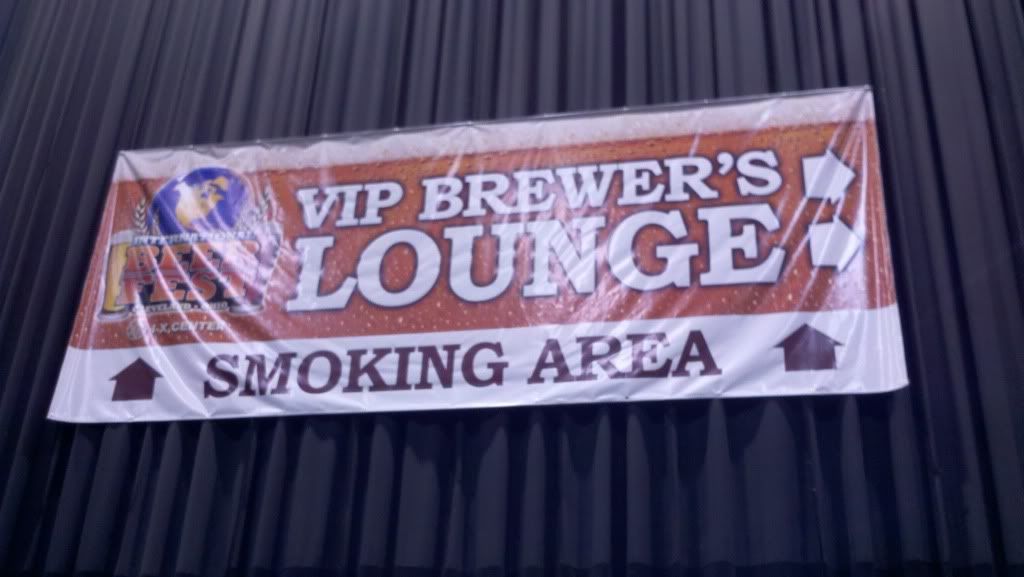 At this point we decided to take in the first Brew U event called Amp It Up. This featured Fred Karm of
Hoppin Frog Brewery
in Akron. Fred did a wonderful job of presenting and explaining the process of infusing Boris the Crusher Imperial Stout with Espresso Beans. He shared not only the process, but his insight on being a risk taker and trying new things with beer. He was friendly, informative and very willing to answer any questions. Before we got to try the Cafe Boris (the name for the infused version of Boris the Crusher), samples of regular Boris were passed around for all to try. Then came Cafe Boris. Only one word can describe this beer. WOW! A silky smooth body packed with dark chocolate and fresh espresso...I was in heaven.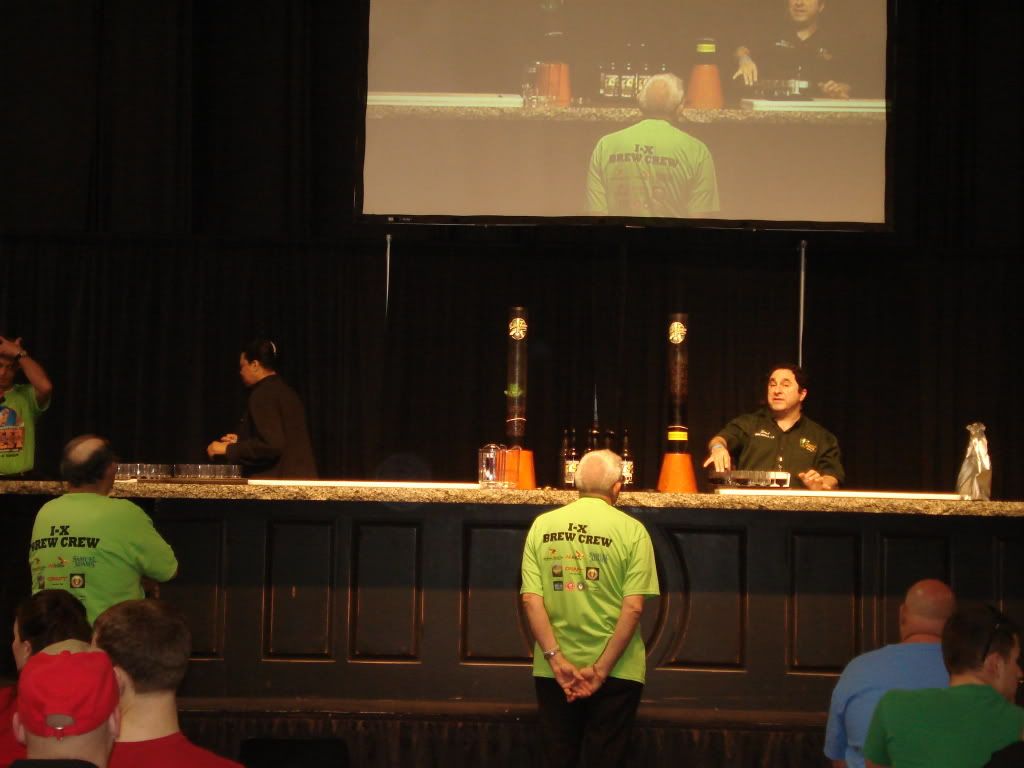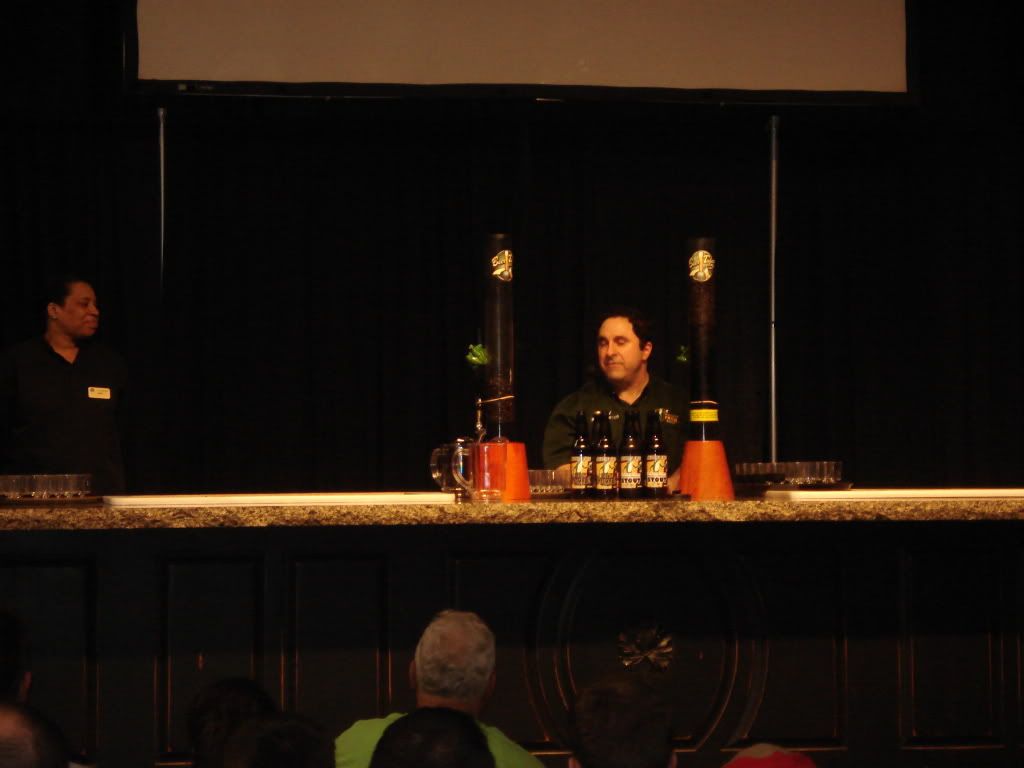 After watching this demonstration we decided to really start sampling and began walking up and down the isles. By this point in the evening it was clear that the set up of the event was working perfectly. There were a lot of people in attendance, but never did we feel like it was packed. The amount of volunteers at each station made getting a beer very easy. Each volunteer I spoke with had a love of beer, and it was fun interacting with them. Something that I'd like to see happen next year would be to have at least one representative for each brewery at every station. From what I observed almost all of the local breweries had representation at their stations, but outside of those ones, about half of the breweries had only volunteers working. I think having actual representation there is a nice feature because it allows the public a chance to see who is behind the beer they are drinking. One of the non-local breweries,
Kuhnhenn Brewing
out of Warren Michigan, had the owner present, and it was a pleasure to talk with him a little about the beers they offer. Speaking of the beers they offer, the 4th Dementia Old Ale, Imperial Creme Brule Java Stout, and the Simcoe Silly were all excellent!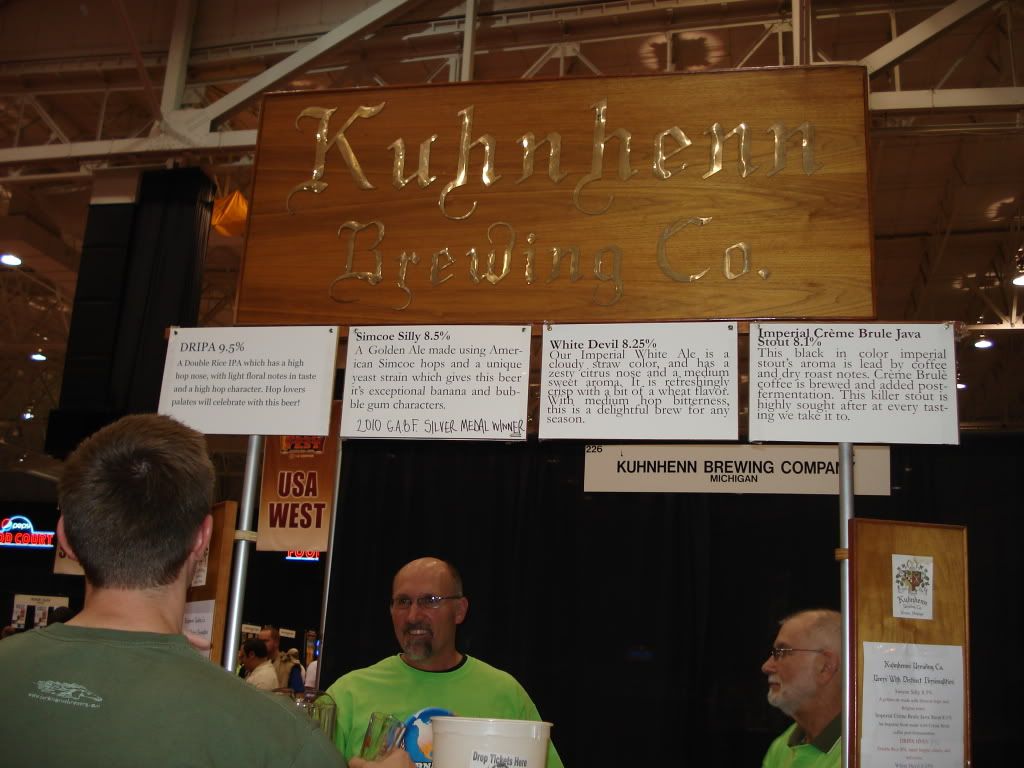 Another area that really was a nice addition to the event was the C-Town Chow Down Food Truck area. I think this addition of quality hand held food to go with all of the beer samples was a brilliant idea. Trucks in attendance were
JiBARO
,
StrEat Mobile Bistro
,
Seti's Polish Boys
, and
Zydeco Bistro
.
One of my favorite aspects of the event was the great showing of the
Cleveland Craftbeer Community
! It was very fun to walk around with everyone and talk about great craftbeer! I had a chance to catch up with old friends and even meet some new ones like two fellow beer bloggers who are not from Cleveland,
RoadTrips4Beer
and
BrewsTravelers
. I wish there would have been a way to get everyone together for a large group picture, but we did a pretty good job with this one while visiting
ClevelandHops
at the Pizza Port station! We also got to visit
BobbyLikesBeer
at the Victory Pouring Station. This event was a huge success in my eyes and the comments that were flying around about the size of the pours and the amount of tasting tickets was not an issue for anyone that I talked with.
Ok...So what did I sample? At an event like this I try to sample as many different beers as I can. I try to stay away from things that I can easily get in stores. I also am not going to review any of these beers based on last night because it would not be a fair assessment of the brews. So here is my list!
Fat Head's Stone Age Imperial Stout
Thirsty Dog Imperial Black IPA (cask)
Sam Adams Oak Aged Porter
Goose Island Nightstalker
Weyerbacher Heresy
Hoppin Frog Boris the Crusher Imperial Stout
Hoppin Frog Cafe Boris
Fat Head's Hop JuJu Imperial IPA
Pizza Port Tarantula Black IPA
Pizza Port Swami IPA
Kuhnhenn 4th Dementia Old Ale
Kuhnhenn Simco Silly
Kuhnhenn Creme Brule Java Stout
Bear Republic Pete's Tribute Brown Ale
AleSmith Horney Devil Belgian Quad
Lagunitas Imperial Stout
Mendicino Imperial IPA
Brew Kettle Tunguska
Great Lakes Lake Erie Monster
Victory Scarlet Fire
Victory Headwaters Pale Ale
My favorites out of this bunch were the Hoppin Frog Cafe Boris, Pizza Port Black IPA, Kuhnhenn 4th Dementia, and the Great Lakes Lake Erie Monster! I really wish I would have had time to sample more, but the 4 hours flew by!
Let me know your thoughts if you attended the event. What did you like and/or dislike, and what was your favorite brew that you got to sample during the event!