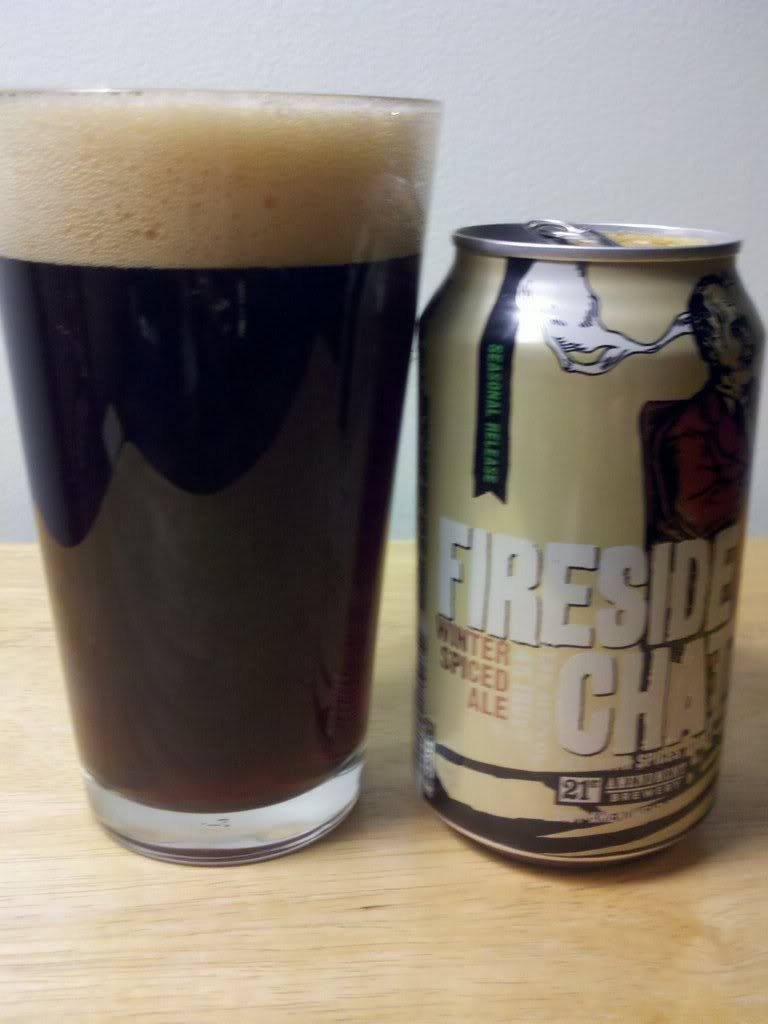 Here is what the Brewer says:
Like FDR's Depression-era radio addresses, which were like a kick in the butt and a hug at the same time, our Fireside Chat is a subtle twist on the traditional seasonal brew. We begin with a rich, dark, English-style ale and then we improvise with spices until we know we have a beer worth sharing with the nation.

Fireside Chat is our early winter seasonal brew available from October through December in six pack cans and on draft. Brewed like a classic, warming Strong Ale but with a subtle blend of hand-selected spices for just the right festive flair.
My Thoughts: This beer was given to me by one of my Craftbeer buddies, John A Fay! Thanks John! This beer poured a dark brown with a considerable amount of tan foamy head. The smell was of sweet caramel malt, with hints of clove and even fainter cinnamon. The taste was very different that I was expecting. The sweetness of the caramel malt hits you up front and then some breadiness seemed to creep in min drink. The finish is a little dry, with only a faint flavoring of bitterness. The mouthfeel was just ok for me. Body was slightly above medium, and carbonation was a little higher than average. Drinkability wise, this isn't a bad beer, but I don't see myself buying a six pack of it.
Serving Type: 12oz can
My Rating: Overall 60/100
look: 3.75 | smell: 3 | taste: 3 | feel: 3 | drink: 2.5