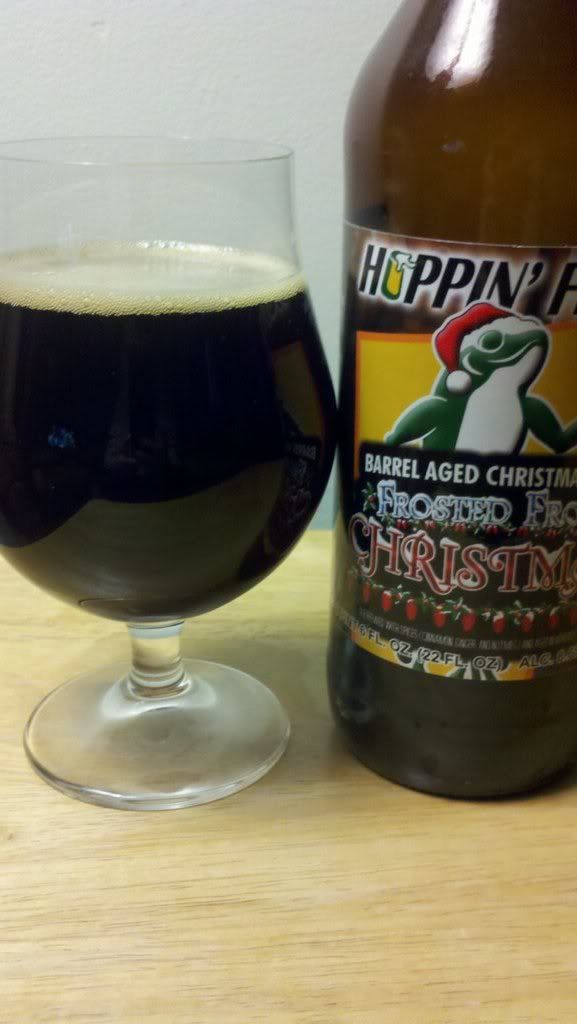 Here is what the Brewer says:
The essence of Christmas is captured in this very bottle you are holding. Perfectly blended spices compliment Frosted Frog's rich malt flavors, creating the ultimate Christmas experience. Celebrate the holidays as you savor this very special seasonal offering. It is aged in whiskey Barrels!
Specs: 8.6% ABV, 84 OG (20.1 deg. Plato), 12 IBU
My Thoughts: The anticipation of trying this brew has been killing me for nearly a month! Renee (@bqrc23 on twitter) hooked me up with two bottles when she made the trip down to Akron in December! The beer poured a dark brown with a hint of ruby and a tan colored head. The smell was pure cinnamon with a hint of the whiskey aging. The nose flowed into the flavor very nicely. The first taste you get is the cinnamon and nutmeg, but it quickly is balanced by the caramel and roasted malt flavors. The Barrel aging really improved this beer over its regular frosted frog sibling because the cinnamon is more well balanced the beer drinks much smoother from start to finish. The whiskey flavor isn't as strong as I thought it might be, but it worked so well with everything else this beer has going for it. I truly recommend letting this beer warm to around 50-60 degrees for optimum flavor. I started out drinking it at around 42-45 degrees and the beer truly did get better as it warmed up. The mouth feel is medium to full bodied and the carbonation remains lower/medium. Drinability on this one is very high. Truly one of the best Christmas style beers I've ever drank. It really is hard to put into words just how good the barrel aging made this brew.
Serving Type: 22oz bottle
My Rating
: Overall 96/100
look: 4.75 | smell: 4.5 | taste: 5 | feel: 4.75 | drink: 4.75