Here is what the Brewer says:
Double Simcoe IPA, 9.0% abv, is our incredible reward for Hopheads seeking the intense hop flavor in a Double IPA, without the harshness. It is brewed untilizing only the Simcoe hop variety. This hybrid hop, developed and trademarked by Select Botanicals Group, LLC in the year 2000, was created for its high alpha acid content, maximum aromatic oils, and low cohumulone(harshness) levels so that brewers can really put a lot of 'em in a beer and not create an overly harsh taste.
Double Simcoe IPA is a full-flavored ale with hints of pineapple and citrus upfront, a good malt backbone in the middle, and a clean finish that doesn't linger too long. Check it out, and you'll soon see why everyone's talking about it. Double Simcoe is available year-round.
9%Abv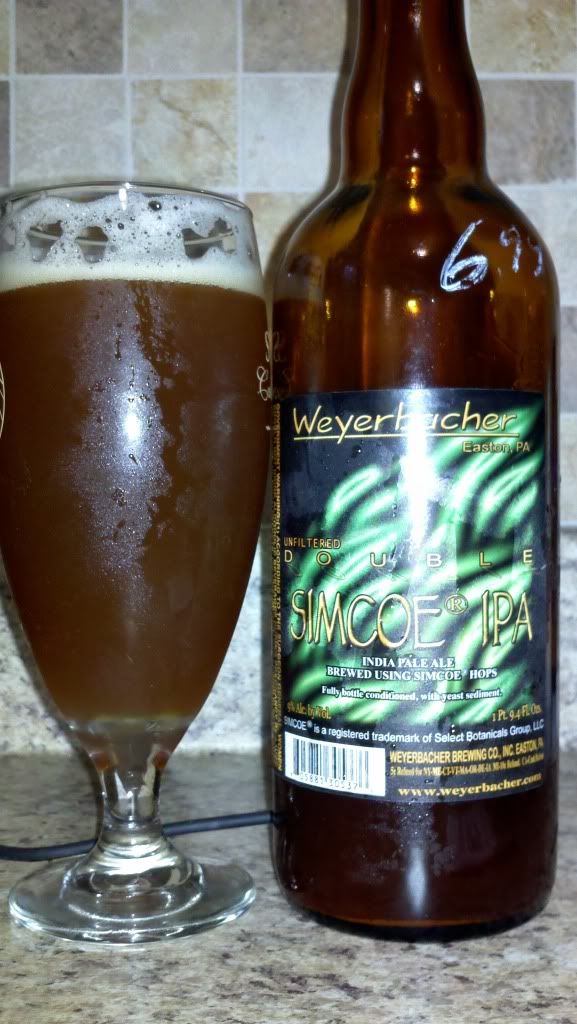 My Thoughts: This beer poured a very cloudy light brown with a fair amount of off white head. The smell was very fresh hop intensive. The flavor somehow manages to be as smooth as something that isn't super hoppy. This beer is brewed with only Simcoe hops. They used these hops because they are less harsh than others which allowed them to use MORE hops and still maintain a very smooth and drinkable double IPA! I did taste a slight hint of citrus and malt flavor in addition what what is a very fresh hoppy tasting brew. It is rated at 153IBU, but honestly it doesn't taste like it is that high because the malt that was added gives it a sweetness that counterbalances the hoppiness. The malt also addes to the body of this beer making it slight above average with a pretty high carbonation rate. This is another quality IPA that any hophead is going to love, that being said I don't see myself drinking back to back 22oz bottles!
Serving Type
: 22oz Bottle
My Rating
: Overall 78.50 /100
look: 4 | smell: 4. | taste: 4. | feel: 3.75 | drink: 3.75